Amsterdam is the capital of the Netherlands, and one of the most popular tourist destinations in all of Europe. The city is well-known for its past, the elaborate canal system and the architecture of their iconic, narrow houses. Amsterdam offers way more than just cheap thrills! You can wander the sidewalks (by foot, or more popularly, by bike) and explore the Old Centre, Red Light, Dam Square, Grachtengordel and Museum districts.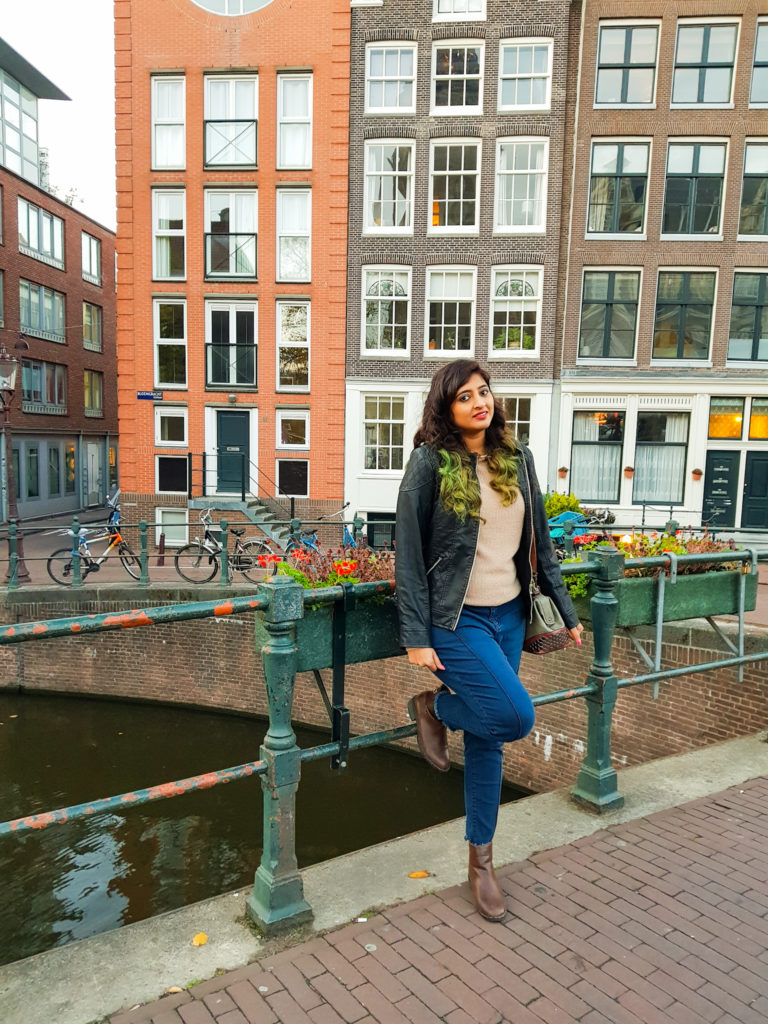 WHAT TO EXPECT IN AMSTERDAM
Amsterdam has a fascinating history and is part of the reason this city is on so many travelers' bucket lists. It's truly one-of-a-kind, and offers so many different kinds of experiences. Here are some things you should know before traveling to Amsterdam:
Language: The official language is Dutch, but nearly everyone speaks English as a second language.
Currency: The Euro!
Climate: You can visit Amsterdam year-round and have a great experience, but the winter months (November through March) may be too cold for walking or cycling around the city. You'll find the warmest months in Amsterdam to be June through September, but they are also the highest months for tourism!
GETTING THERE
Amsterdam Airport Schiphol,is located about 20km from Amsterdam, and the cheapest and quickest way to get into the city center is by train (about 15 minutes). You are able to purchase a one-way ticket for just €3.70 Euro from the machines next to the trains.
GETTING AROUND IN AMSTERDAM
Amsterdam has impressive public transportation and offers travelers bicycles, metros, buses, ferries and tram to help you get around the city and beyond. Getting around Amsterdam is also very cheap, just a Euro or two per ride, so you have lots of options!
Bicycle: Most locals use bikes to get around. There are a LOT of bicycles, so be prepared for lots of bike traffic, but you can easily rent one (for about $10-12 Euros) for your time there.
Walking: Most places you'll want to visit in Amsterdam are relatively close together. Obviously a bus or metro will get you around much quicker though.
Public Transport: You'll find that getting around quickest can take a combination of bus, metro and tram rides. Luckily, the GVB offers daily transportation passes, available for 1 to 7 days, with prices starting from €7.50 Euros, and are valid for use on all three types of transport. This is definitely your best best if you're in the city for a few days. TRAM was my favourite!!!!!
WHERE TO STAY
This is going to, of course, vary by person to person. You have options to stay in hotels, apartments and Hostels. If you're staying in an apartment or hostel with cooking facilities, you can take full advantage of the great range of fresh produce in markets and supermarkets. But let me tell you i stayed in IBIS styles Amsterdam city location was so amazing next to canal and 2min away from Albert Cuyp market . I loved my staying there…
WHAT TO EAT
Dutch food is great, but not as wide spread in the city as Indonesian. Go to Blauw for traditional Indonesian cuisine served in trendy setting. As Indonesian is very popular here, make sure to try the spicy rijsttafel, or 'rice table'. Also must try the waffles, stroopwaffel from Albert Cuyp, croquettes, fries with mayonnaise, cheese, and pancakes.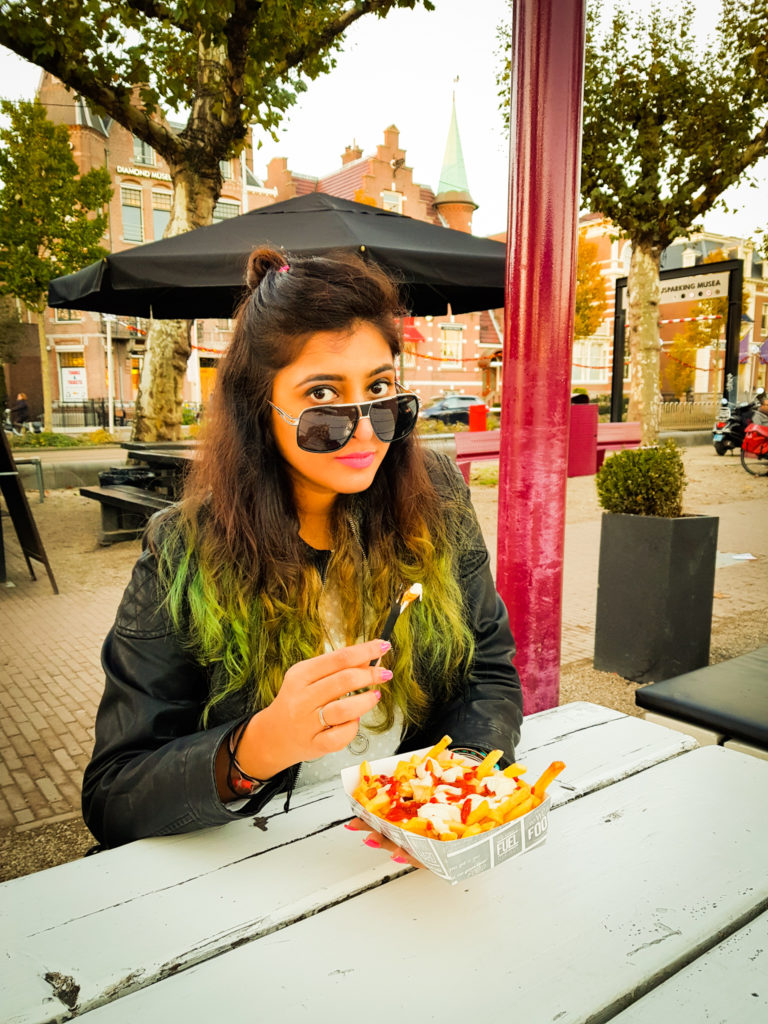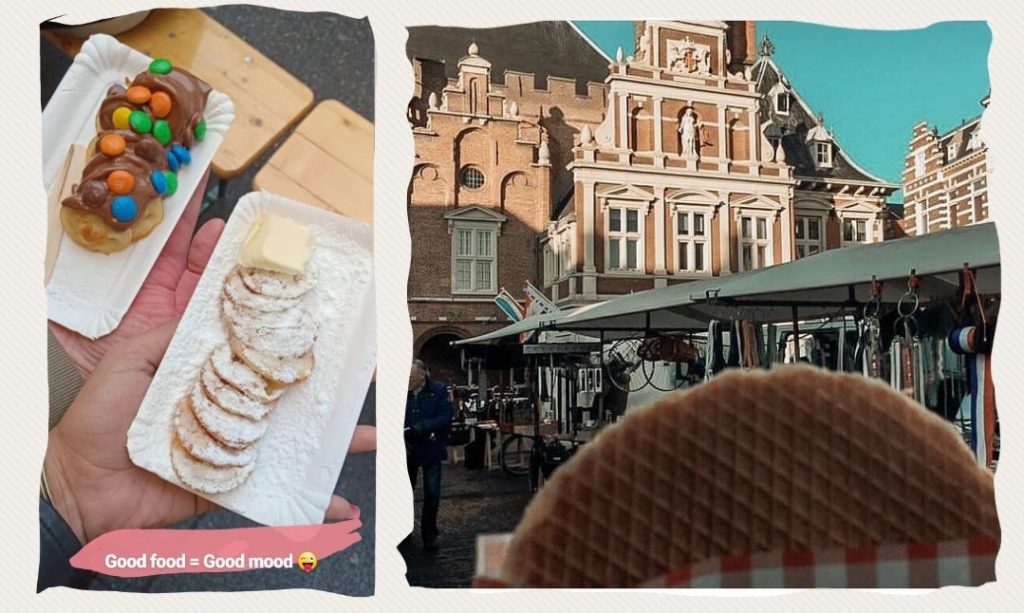 WHAT TO DRINK
Heineken, of course! But gin is also very popular here and you can find many bars offering a wide selection of Dutch gin. There is lots of nightlife around the city in pubs and clubs in places like The Medieval center, Leidsplein, the Red Light District, and Rembrandtplein. Remember that a coffeeshop isn't selling coffee. These are cannabis cafes and are sprinkled throughout the city.
WHAT TO DO
RENT A BIKE
The absolute best way to get around this city is by bike. Don't be alarmed! There are lots and lots of bikers… EVERYWHERE. The fastest and prettiest way to see the sights by far. Truly, it's the best way to live like a local.
CANAL CRUISE
Get a feel for the history and layout of Amsterdam's canals by boat. Take a full tour or hop-on-hop-off tour, and travel through the canals of the city.
MUSEUMS
Amsterdam is a town of art. There are many famous artists that have come out of Amsterdam including Rembrandt, Vermeer, and Van Gough. You can see their pieces in some of the museums, such as the Rijksmuseum, Van Gough Museum, or Hermitage Museum. If you are more of a modern art lover, check out the Moco Museum.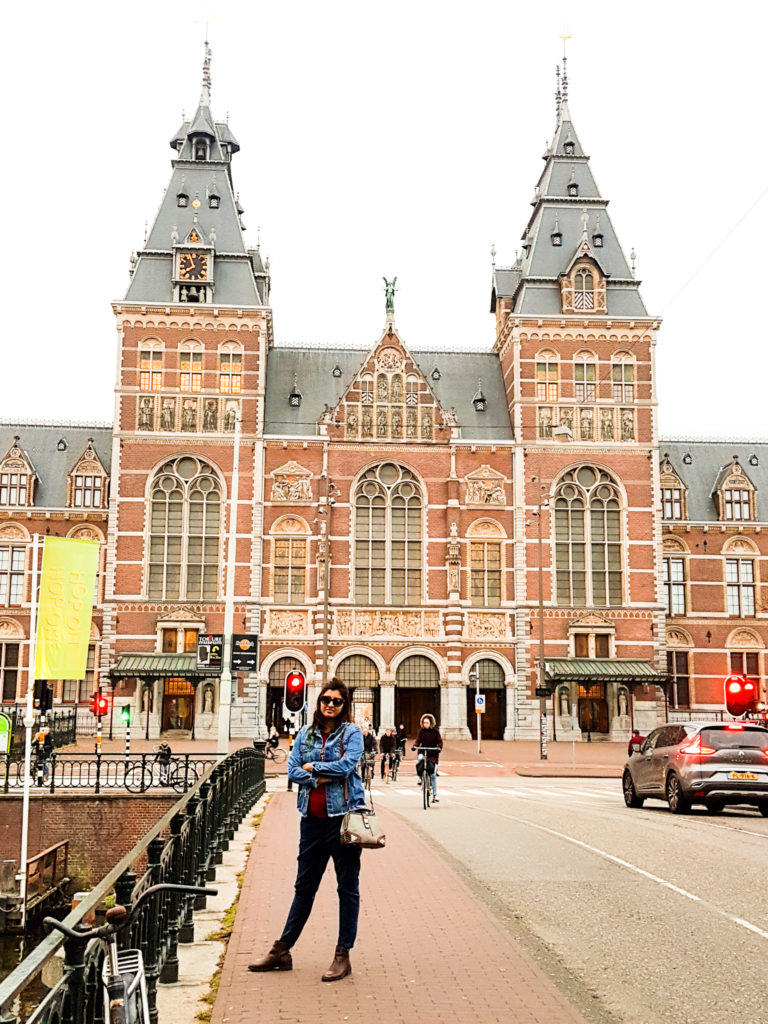 TAKE A PICTURE AT THE "IAMSTERDAM" SIGN
Did you really go to Amsterdam without taking a photo in front of the sign? Let's not find out. Get there early in the morning to avoid the (massive) crowds!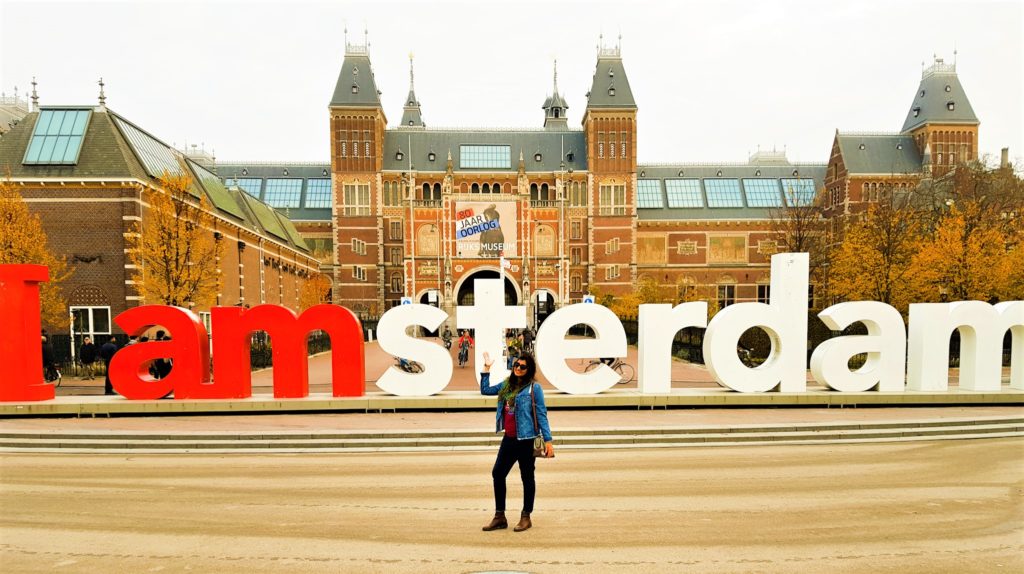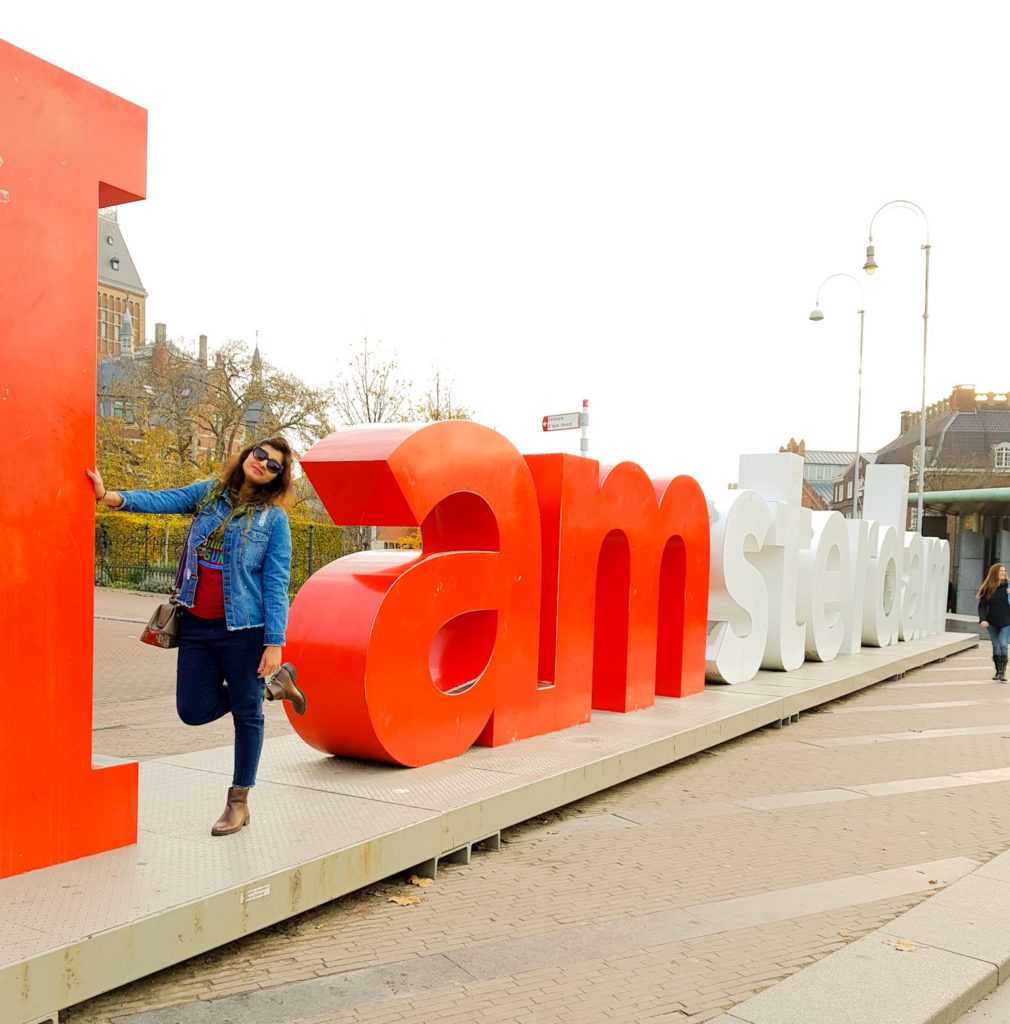 HAVE A HEINEKEN EXPERIENCE
This former brewery now serves as a museum for beer lovers. You'll get an interactive view at how the beer is made and processed with a tasting at the end. Expect to pay 29,50 € for a full tour and tasting.
MAKE A TURN FOR THE RED LIGHT DISTRICT
The Red Light District is world famous for it's women (and men) in the windows. Yes, paying for sex is legal here and you can see it on display on the streets. And do not take picture of women standing in the windows its strictly not allowed. It is interesting to stroll around and see what this street is all about.
MARKETS AND SHOPPING
Waterlooplein flea market and the Albert Cuyp market are a must. ALBERT CUYP MARKET- Don't miss this market! It's the largest in all of The Netherlands and has been around since 1905. Come hungry and try some local cheeses and dutch Stroopwafels. You can also score some great souvenirs here.
The bloemenmarkt (flower market) is a floating flower market situated on barges on the Singel Canal is filled with an impressive array of plants and flowers, including the famous Dutch tulips.
De Negen Straatjes or 9 streets is a wonderful shopping area in the heart of Amsterdam filled with boutiques, jewelers, specialty shops, bars, cafes and restaurants. It is the perfect place to spend a day shopping. There are so many things to see and do near and around Dam Square- where the city was founded.
The JORDAN AREA
This heavily residential area (an old working-class neighborhood turned hip) is probably the most missed part of Amsterdam. Although it's right near the city center, hardly any tourists enter this maze of restaurants, cafes, and shops. It's peaceful and a great place to wander while avoiding the mass of tourists crowding the main streets just a few blocks away.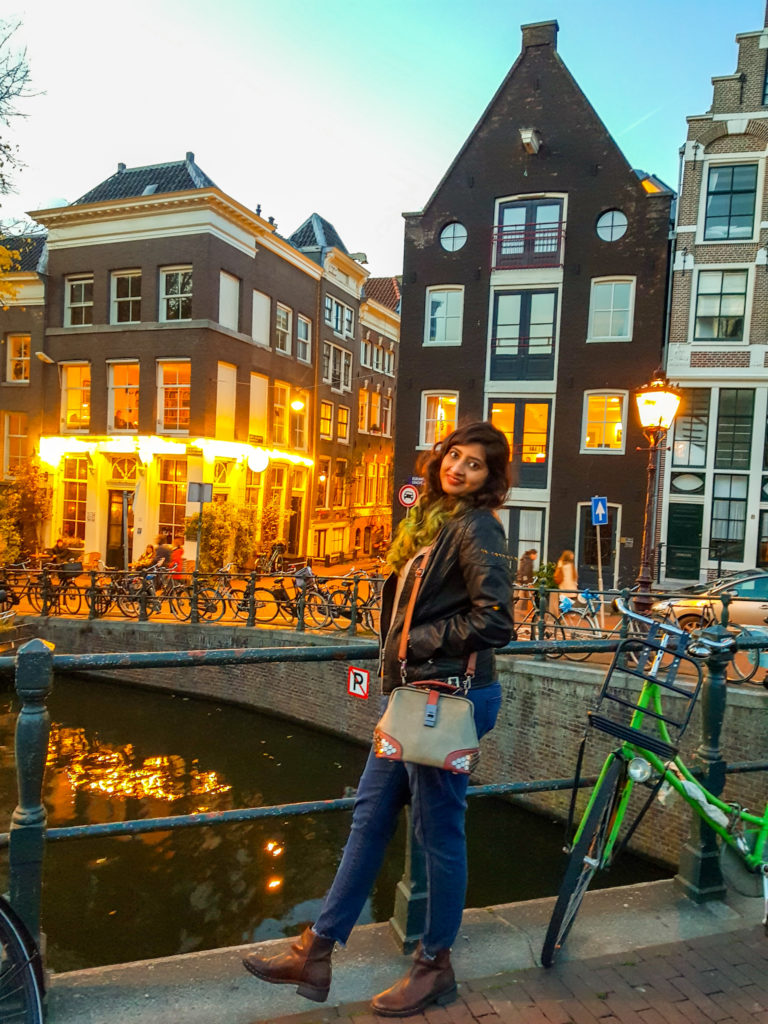 PACK A PICNIC IN VONDALPARK
If you find yourself in Amsterdam during good weather, chances are, Vondalpark will be packed with people. Take a walk through the park, pack a picnic and people watch.
I love Amsterdam because?
It's everything I could want or need, all wrapped up in one pretty, little package.