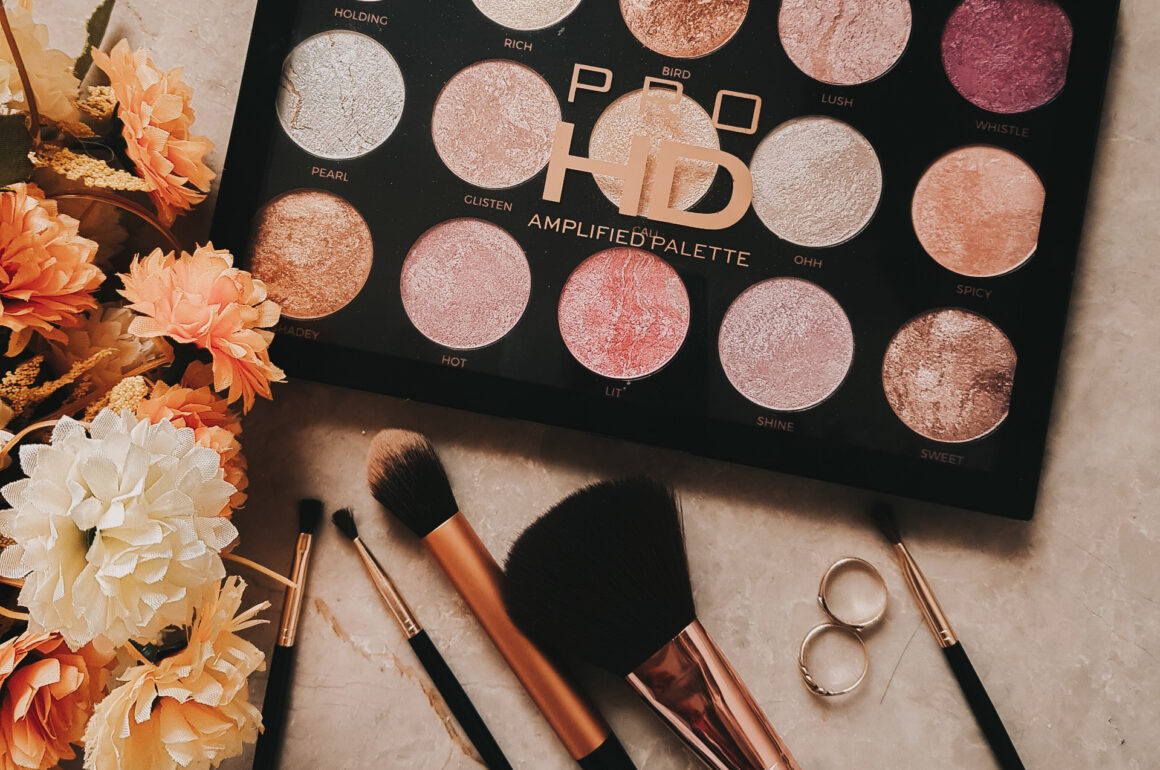 Hey dolls!
If you love to glow just as much as I do, then you know how it feels when you come across a highlighter product. So, today's review is on this super cool product from one of my favorite drugstore brands, Makeup Revolution – their highlighter Pro HD Amplified Get Baked palette.
•Vegan •Cruelty Free •Gluten Free
This baby is huge! You get 15 shades in here that are a mix of highlights, bronzers, and blush toppers. That is an enormous steal considering what percentage choice this palette provides. They range in shades so I think every skin tone would be able to find a highlight that works well for them in this palette. The blush toppers are also gorgeous! You get your lightweight pinks, your darker pinks, and an almost lavender shade. And the options are endless!
The face palette comes encased in plastic packaging and it has a clear lid so you can see all the shades. I like this, because it's always nice to see the swirls of baked colour.
The palette has 15 colors, some with a beautiful marble baked effect. This allows you to see a different color through the highlighter, which looks even better. All colors in the palette are baked for a beautiful glow. Baked means that they were first cream highlighters, which were slowly baked into a powder. This means you need less of the product for a good pigment. The texture also often feels better than with a normal powder highlighter. A little also goes a long way, so you need not drown yourself in product.
There's three rows in total you really do get a magnificent selection – every Pink/Peach tone, to Golden Bronzes and celestial lights. The shade names are printed on the front so it makes it very easy to see which colour you are reaching for.
It is a large palette, but it's not thick and it really doesn't take up much space.
If you're new to Makeup Revolution and fancy giving these a try, it makes a great starter palette. Or if you simply want to extend your growing collection by having all your shades in one place – this palette is perfect for you.
Holding, Lush and Glisten are the perfect day to day shades because they are subtle and if you want to amp the colour up, you can mix it with a louder shade. Rich, Call and Pearl are my favourite highlighter shades of course and one can even use as eyeshadow shades. The possibilities really are endless!!
The palette retails for £10.50 now which is close to INR 950 and it's amazing value for money considering there are 15 shades, so really you are not even paying £1 per shade and if you look at the quality and pigmentation – it's great value for money. probably you can buy it online from their website.
The colors are not chalky, nor is there any fall out. So, it makes the perfect addition to my ever growing makeup collection and I love it!
Overall, I'm in love with this product. I have a couple of events coming up this month, and I can't wait to dazzle in my pictures! If you're trying to find a stunning, dazzling highlighter on a budget, then I'd undoubtedly suggest you get the Makeup Revolution Liquid Highlighter.
Previous Post: PICTURE PERFECT CAFES IN MUMBAI
XOXO
Hayyaa…