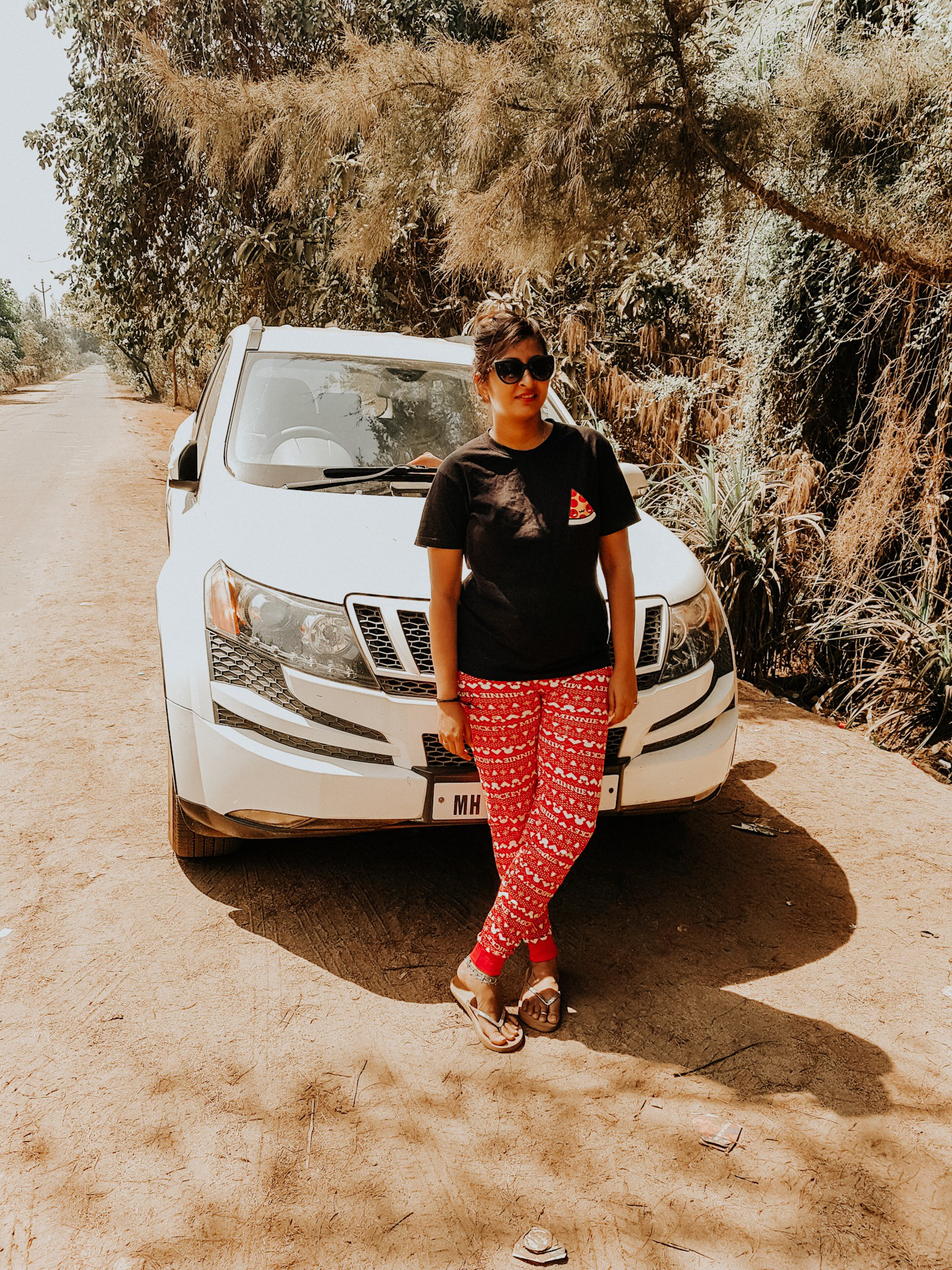 It was a hurriedly planned trip, once months of procrastination. It was a super long weekend if we took an off one day in between (Holi holidays) so, we had to go somewhere. However, due to the tourist season rush, most options were exhausted and we decided to make a quick roadtripin' to Konkan. It was a three-day trip, tiring due to long rides and poor road conditions, but fulfilling otherwise. However, this was my second time trip to Konkan.
Let me just propose you great and less expensive choice to spend your holidays. A road trip covering Harihareshwar, Shrivardhan, and Diveagar Beach!!!
Harihareshwar
Harihareshwar may be a little coastal city with in the Raigad district of the Konkan region in Maharashtra. Nestled with in the foothills of three hills Harihareshwar, Harshinachal and Pushpadri, it is touched by the river Savitri before it meets the Arabian Sea. The city may be a renowned spiritual seat of Shaivism and has an ancient Kalbhairav Temple, giving it the name Dakshin Kashi.
How to Reach Harihareshwar
The nearest railway station to Harihareshwar is Mangaon. Trains from major Indian cities like Mumbai, Thiruvananthapuram, Bikaner, and Madgaon halt at the Mangaon station. From Mangaon station, buses are available to reach Harihareshwar which is around 60 kms. so, if you prefer bus journey over the railway, you can catch a direct bus from Mumbai or Pune to Harihareshwar.
But, what I would suggest is to go on a roadtrip from Mumbai or Pune
To beat the traffic, we started early around 6.00 am and so by 7.30 am – 8.00 am, were already outside Pune. We stopped midway at a McDonald for breakfast and then proceeded further. This region is really beautiful.
The roads went progressively bad on the ghats, and it was so bad at places that we could not drive above 20-30kmph Speed.
The route to Harihareshwar is extraordinarily scenic, even by the standards of the magnificent Western Ghats. The serpentine road navigates through lush green rain forest under tunnels formed by trees with the Arabian Sea and its backwaters on one side and low hills on the another. Also, It has a very calming effect and the general lack of human presence on the road makes it even better.
MTDC Resort -Harihareshwar
We reached at some time past noon and checked in at our hotel. We stayed in MTDC Resort -Premium suit A/c room. They have two types of rooms: Wooden Cottages and in new building Premium Suits both are beautiful and just next to sea. I have experienced both. The best eating options are available at the restaurant of the MTDC resort because it serves good seafood and has decent options in vegetarian as well. If you are planning a trip to Harihareshwar, try to book your accommodation MTDC well in advance, instead of looking for any other hotel MTDC Resort -Harihareshwar
The sea beach at the MTDC resort is rocky, with black lava rocks dotting the landscape and at a 2 min walk from the restaurant. Though beautiful, it is dirty – strewn with broken glass and rubbish of all kinds. Ok for spending 30 minutes but not much of a place.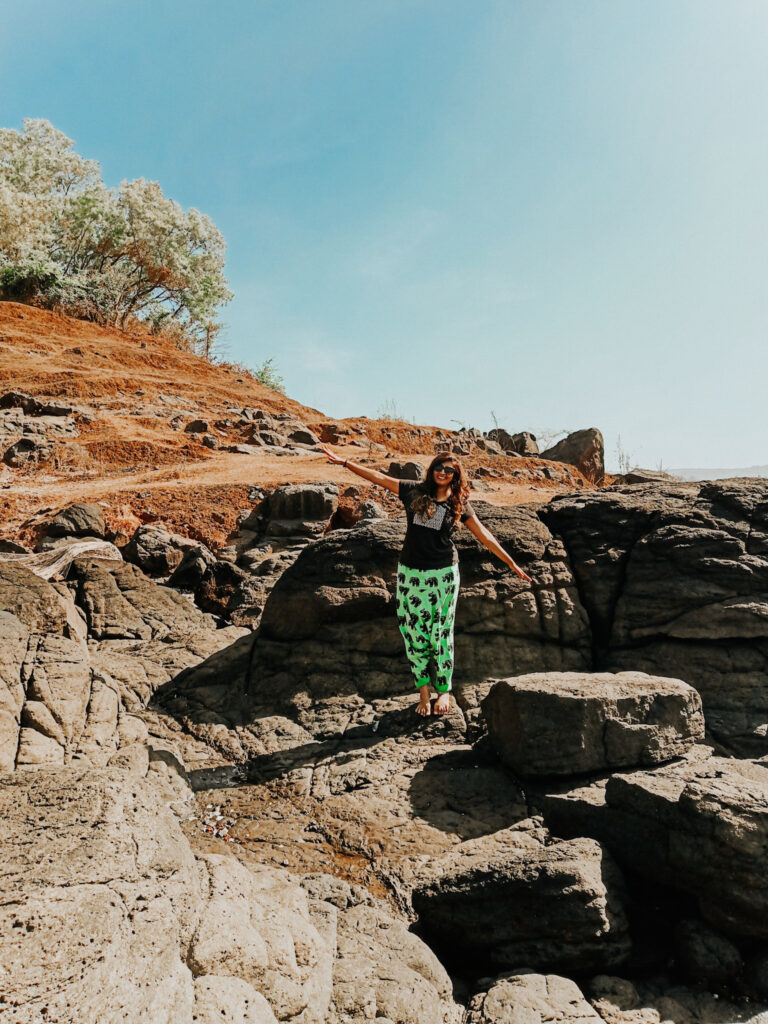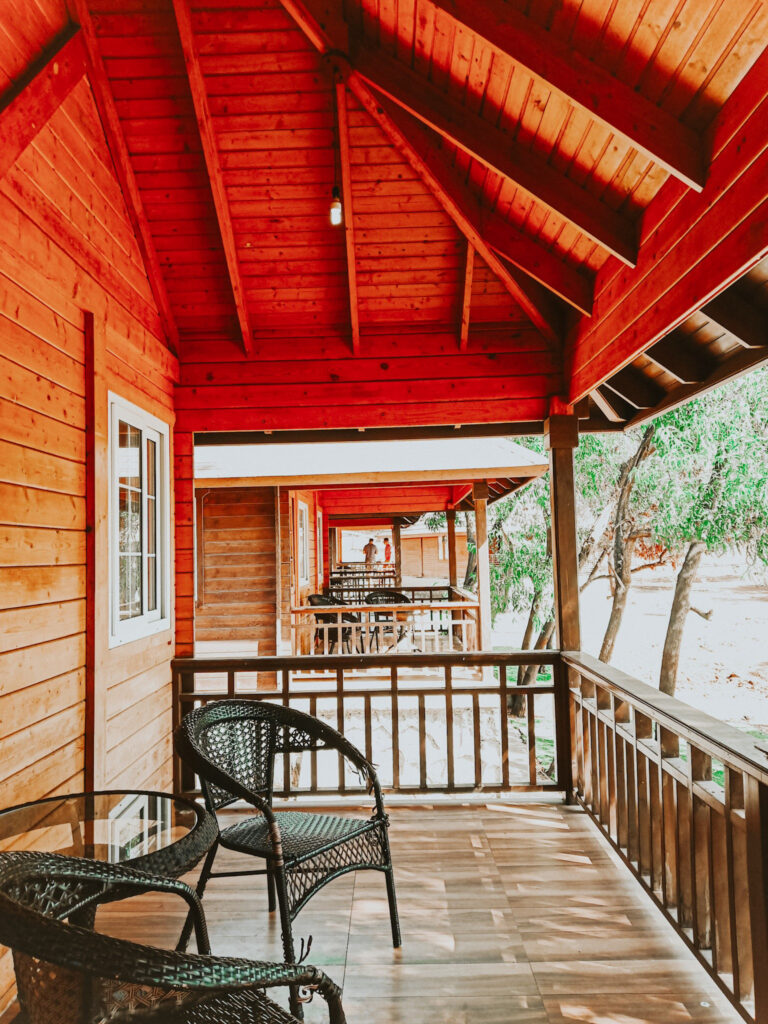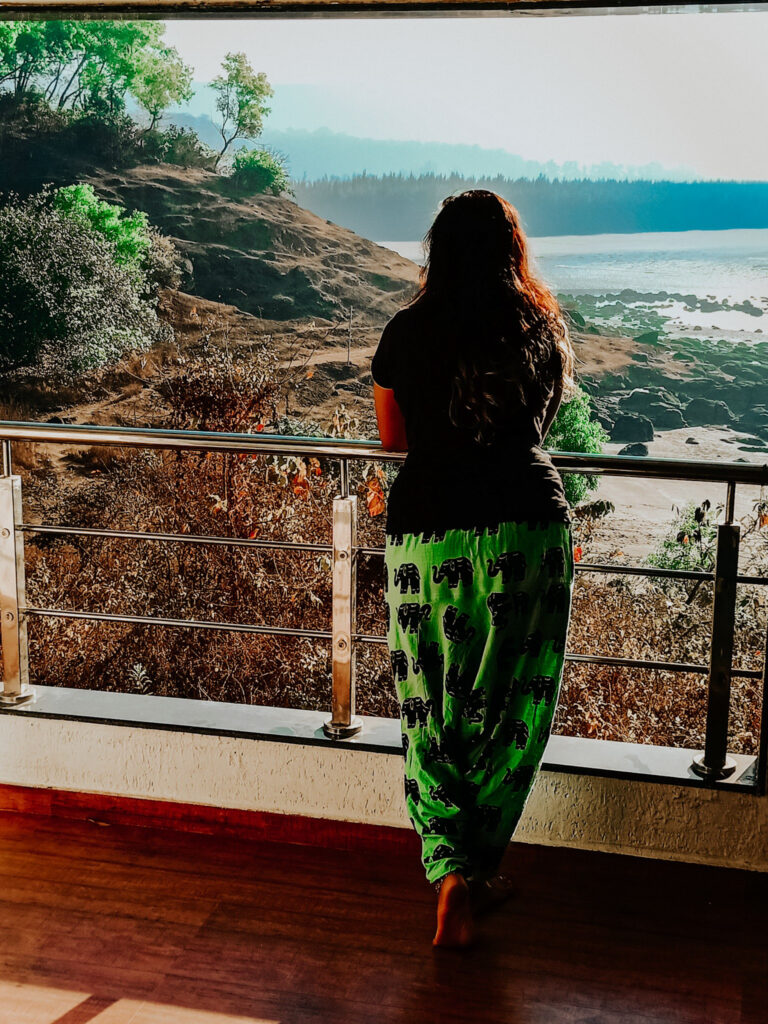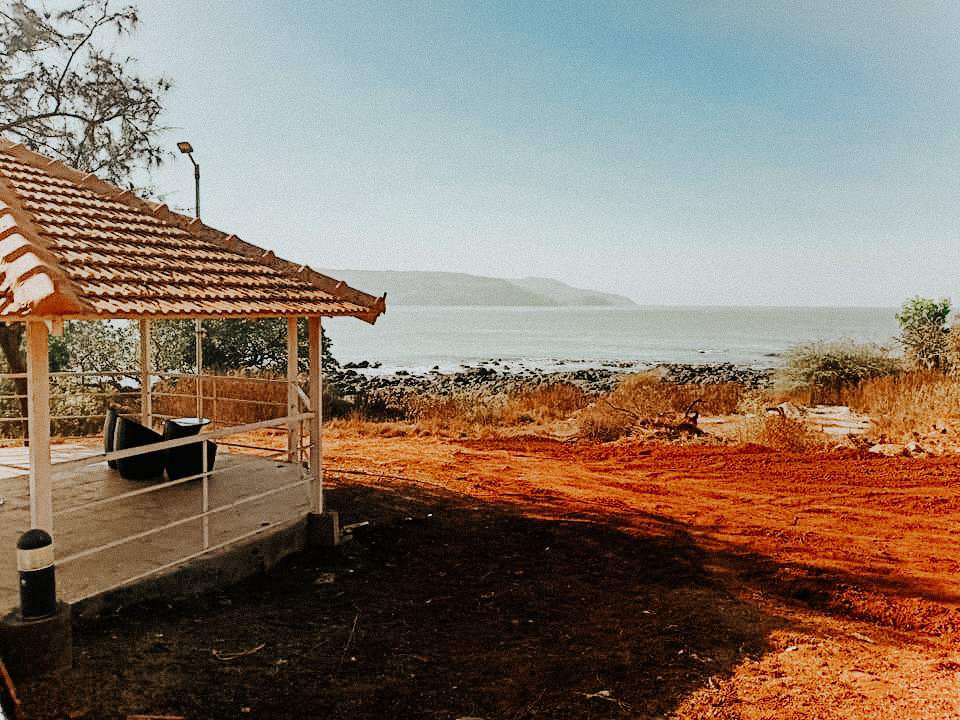 Harihareshwar beach
At the Harihareshwar beach, there is the famous temple of Lord Harihareshwar which is said to have been blessed by Lord Shiva and known as Kashi of Southern India. Temple and nearby area have huge mythology history associated with it. We visited in the afternoon, the sky, clouds, sea and sand, conspired together to create such a spectacle that it will remain etched in the memory for a long time.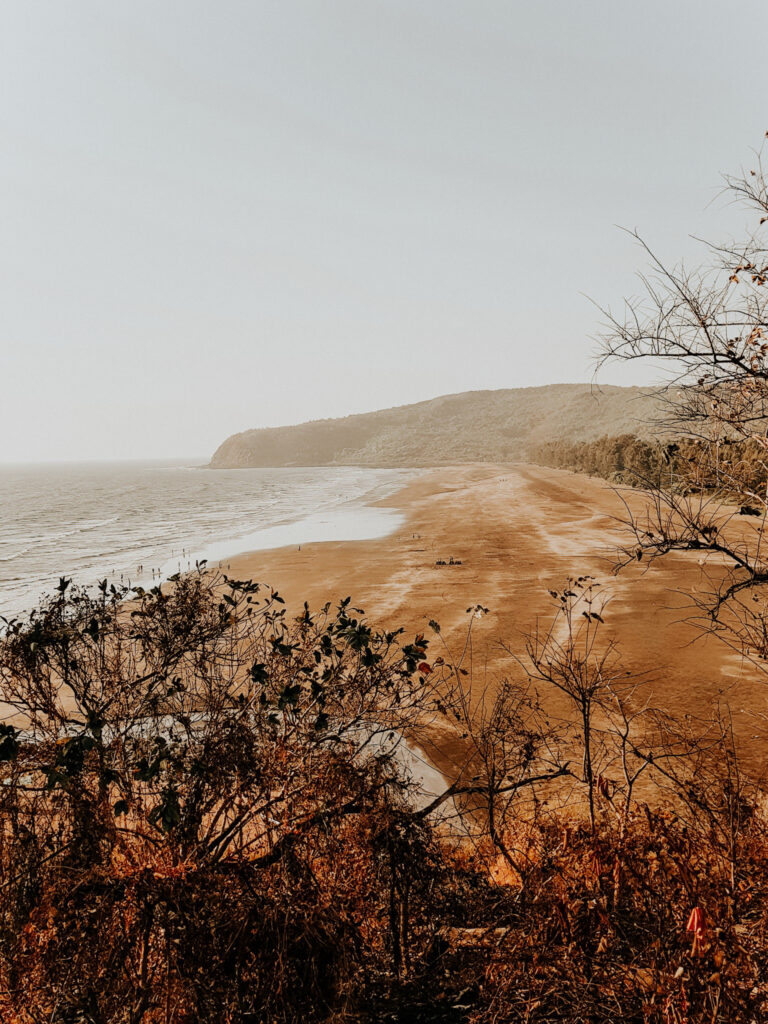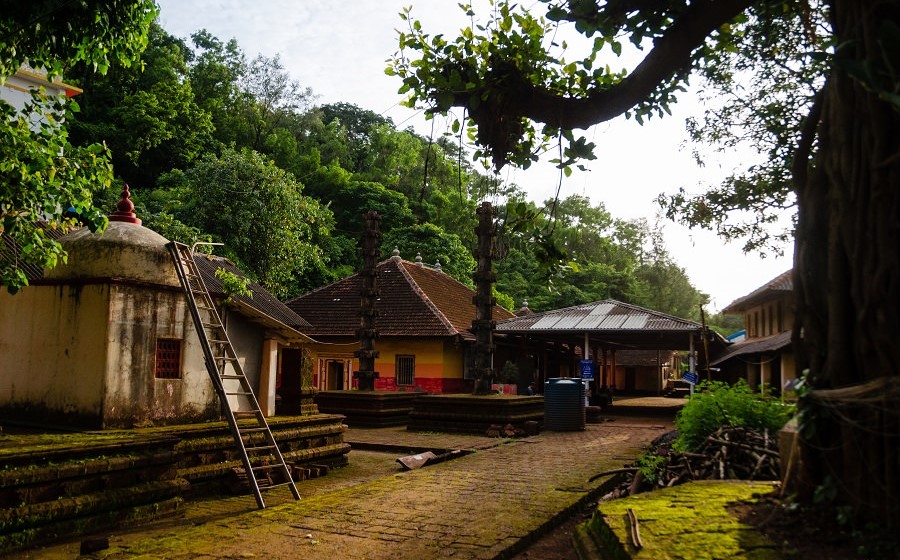 Stairway to Harihareshwar Beach
Perhaps one in all the foremost vital landmarks, and sometimes ignored, of Harihareshwar are the lava rocks lying to the left of the beach can be accessed from Temple. Behind the temple is a stairway which will lead you to peak. Here you may realize another steps (130 stairs) that ends up in the rocky patch by the aspect of the ocean. View of the Arabian Sea from the stairways is simply breathtaking. Also, don't miss the sunset as the views are simply stunning.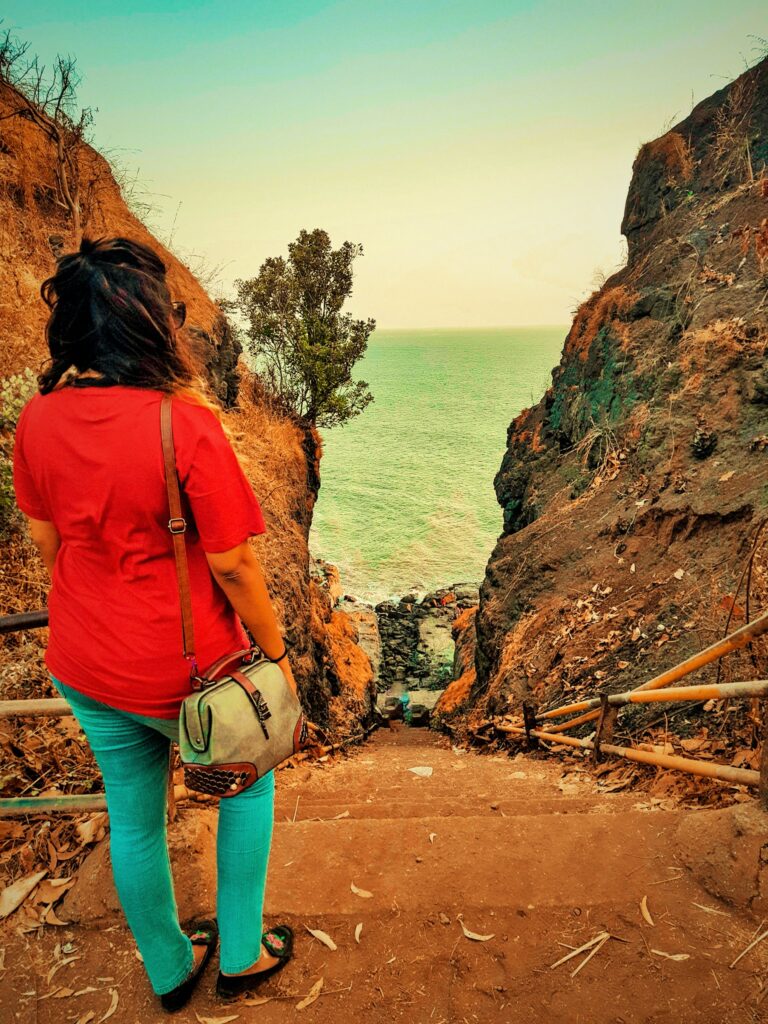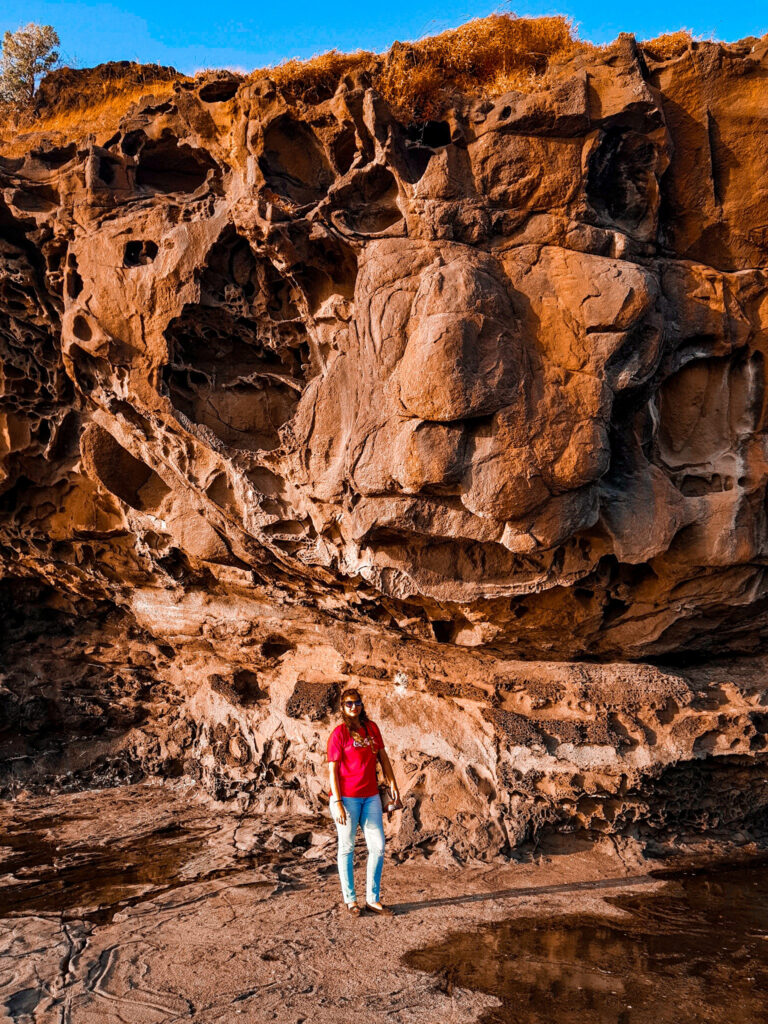 The Harihareshwar beach is not very clean because the local administration does not seem to be very Swachh Bharat conscious. However, what the place lacks in terms of human folly, it more than makes up by the bounties of Mother Nature. It is an alcove of fine black sand and a calm sea flanked by hills on both sides and opening up towards the town.
Diveagar
The following day was planned for Diveagar, we checkout from Harihareshwar and reached Diveagar around 11.30am. Checked in to our Hotel Grand Ambience Resort and as we went in the middle of extreme heat hence the AC rooms saved us. It's a new property, its clean, bathroom with shower, TV (with limited channels subscribed), AC and also with amazing view. There are few options available nearby beach but offcourse you need advance booking. But last minutes trip dint had many options. Though,it was working day for my husband (Chirag Mehta), he was working from Hotel room on particular day. I relaxed for some time while he was finishing his work.
Where to Eat In Diveagar
For lunch best thing that you should try is many house there offers fresh meals. So, these are actual homes who are cooking meals (thali). We had lunch at Swayum Patil Khanaval which is located nearby beach. The food was simple and homely but is usually the best of local fare. So a non-veg thali could have fried fish, fish curry, chapatti, rice and Solkadi while a pure veg thali would have chapatti, two sabji, dal, rice and one sweet. Therefore, I highly recommend this place if you are Seafood lover. From there it was just to get back to the hotel and sleep. The afternoon heat very drains you out and therefore there's nothing abundant you'd wish to fancy.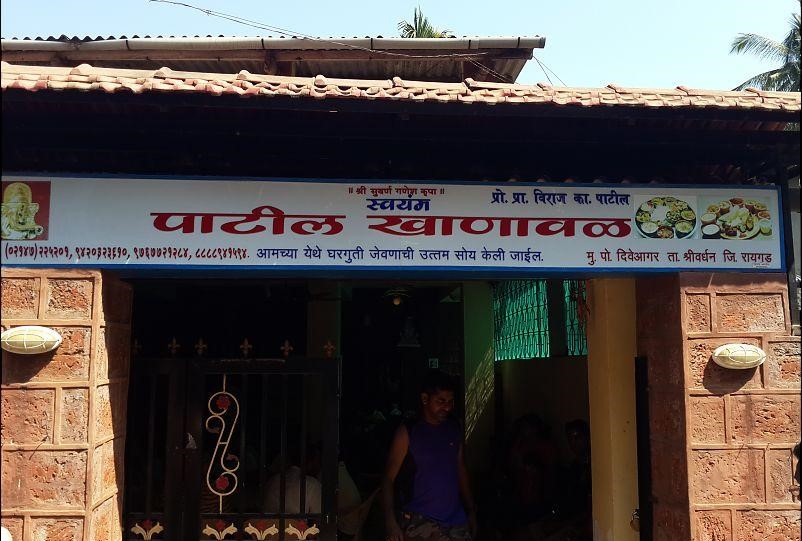 Diveagar Beach
At around 5pm we became explorers, Diveagar Beach is a blend of activities and peace. The beach has enhanced huge prevalence among the people of Mumbai and Pune who are looking for adjacent beach decisions aside from the swarmed Alibag and Kashid Beach. There are multiple vendors selling Chaat, Vada Pav, Maggi, Ice-gola etc. Many adventure activities like all the water-sports, Parasailing, Horse/Camel ride, ATV ride, Banana/Bumper, Jet Ski Ride etc. you can enjoy here and the beach is also safe for swimming. Also can't miss beautiful sunset.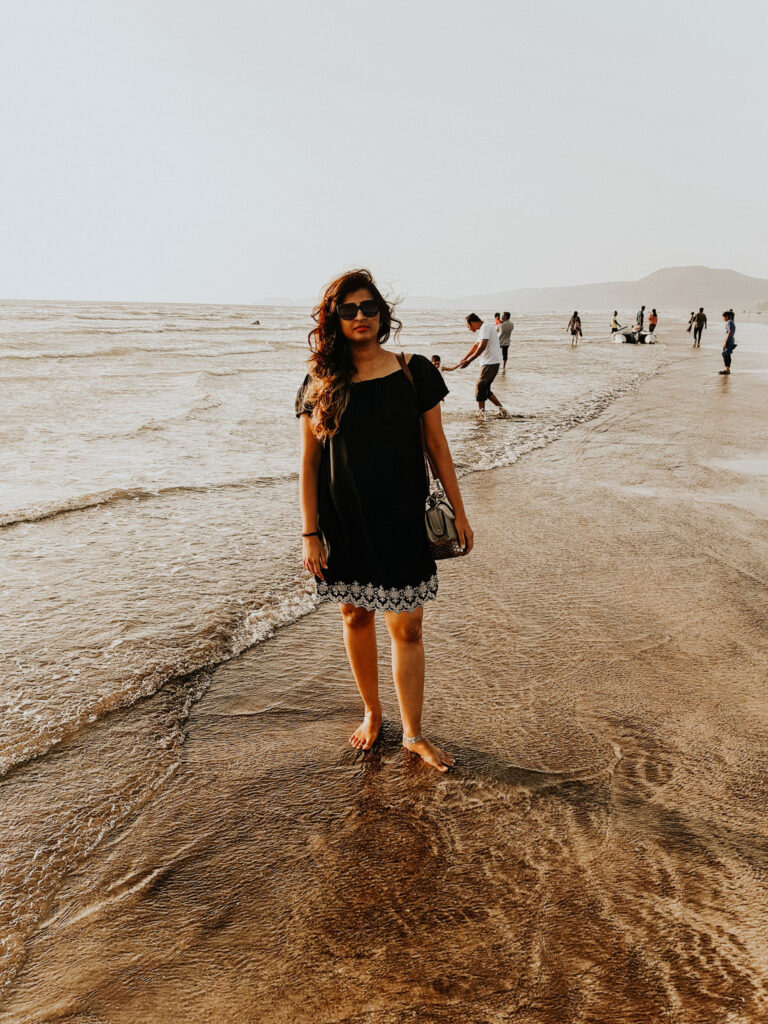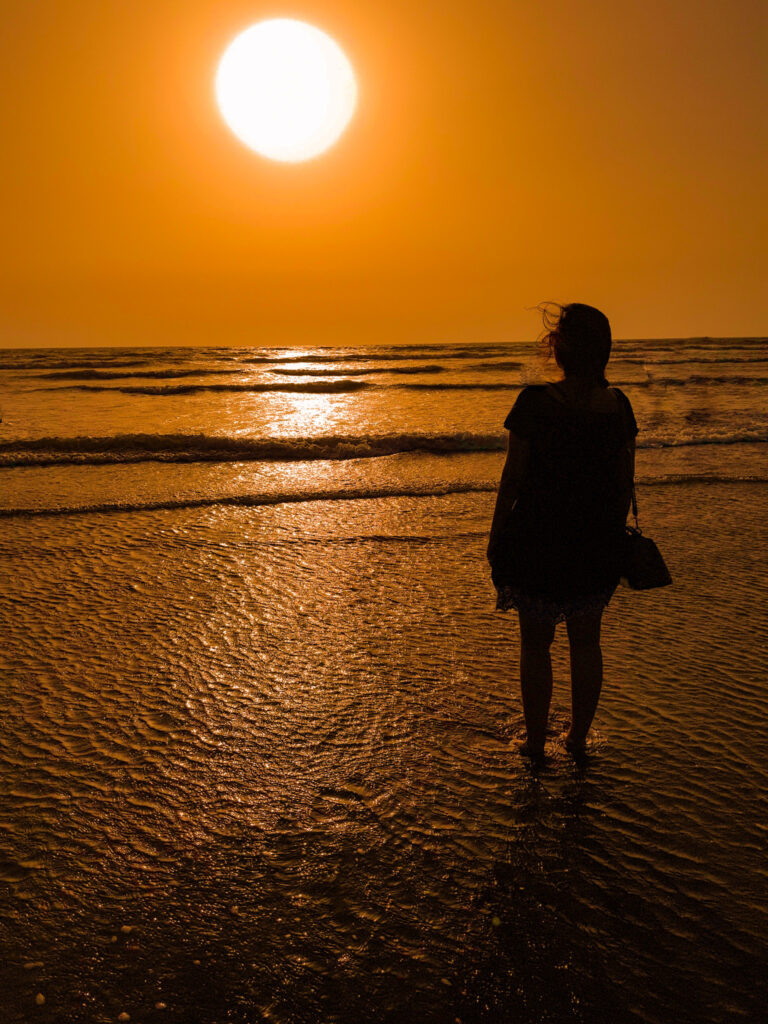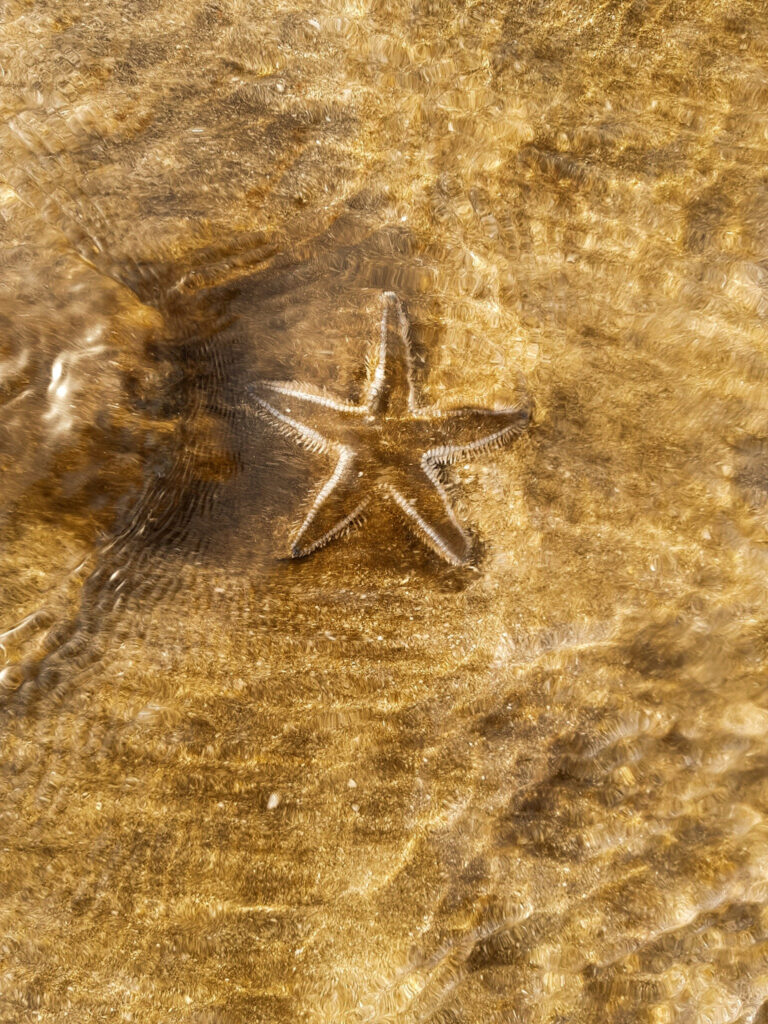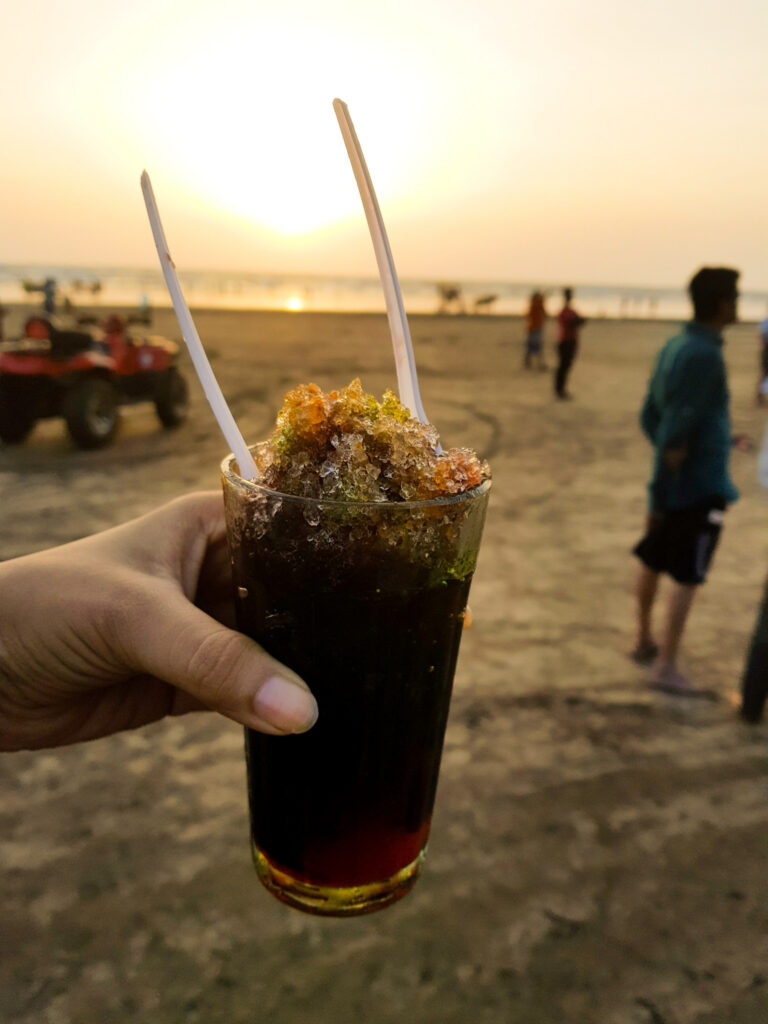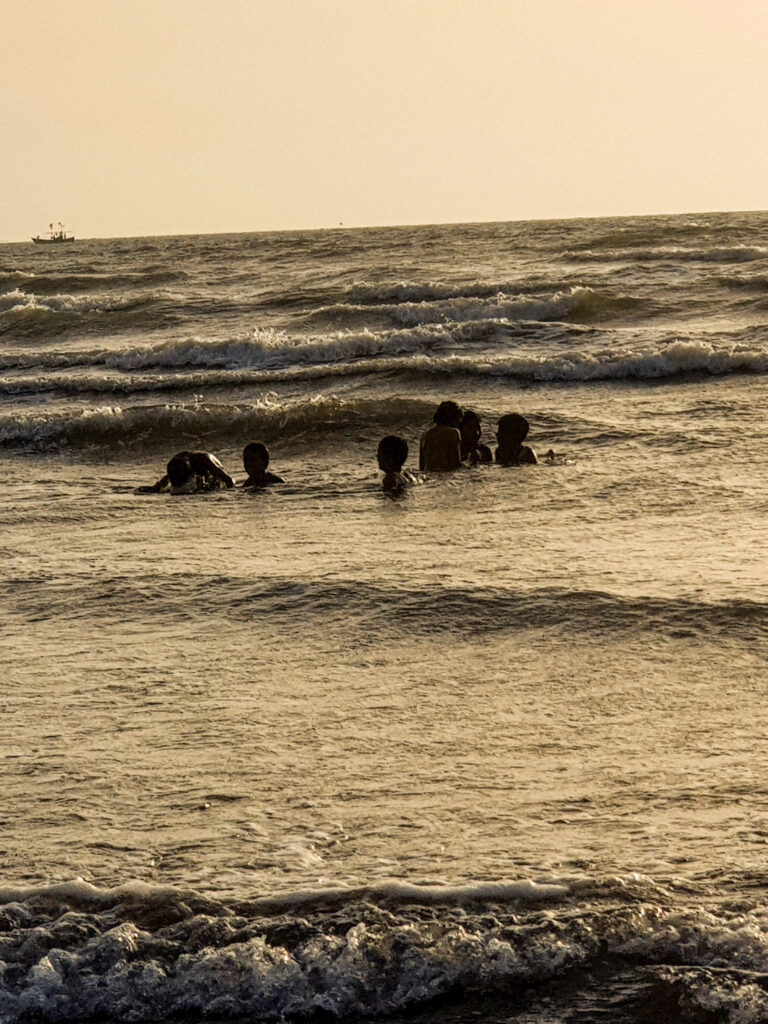 We decided to come next morning for water sports and activities.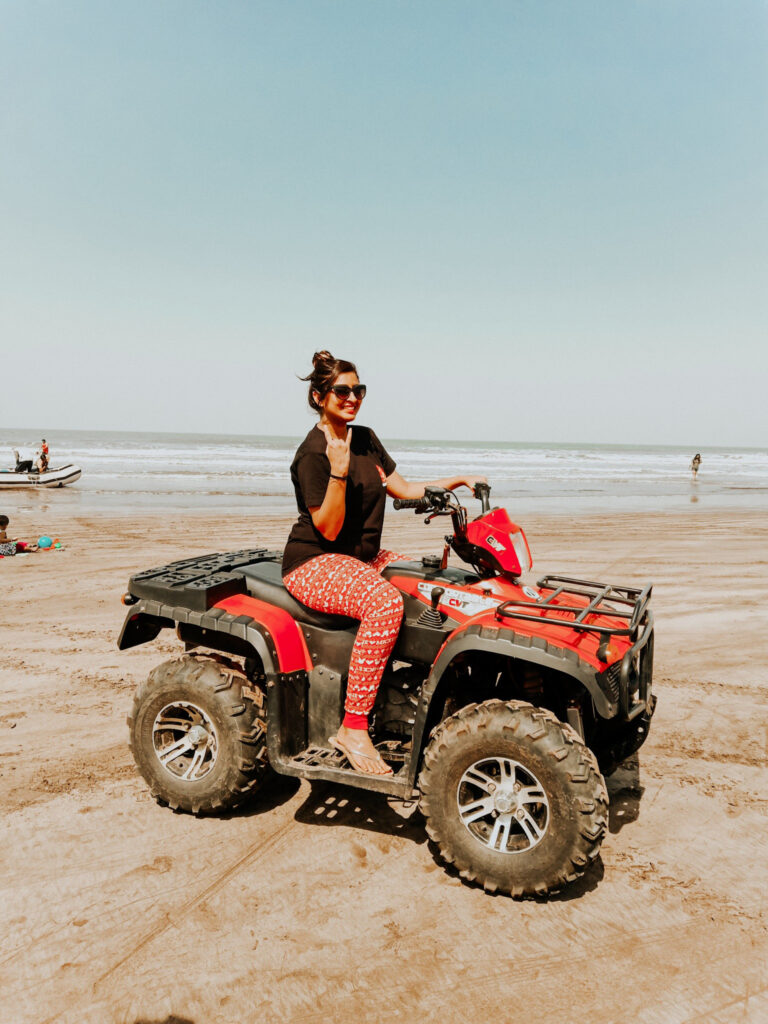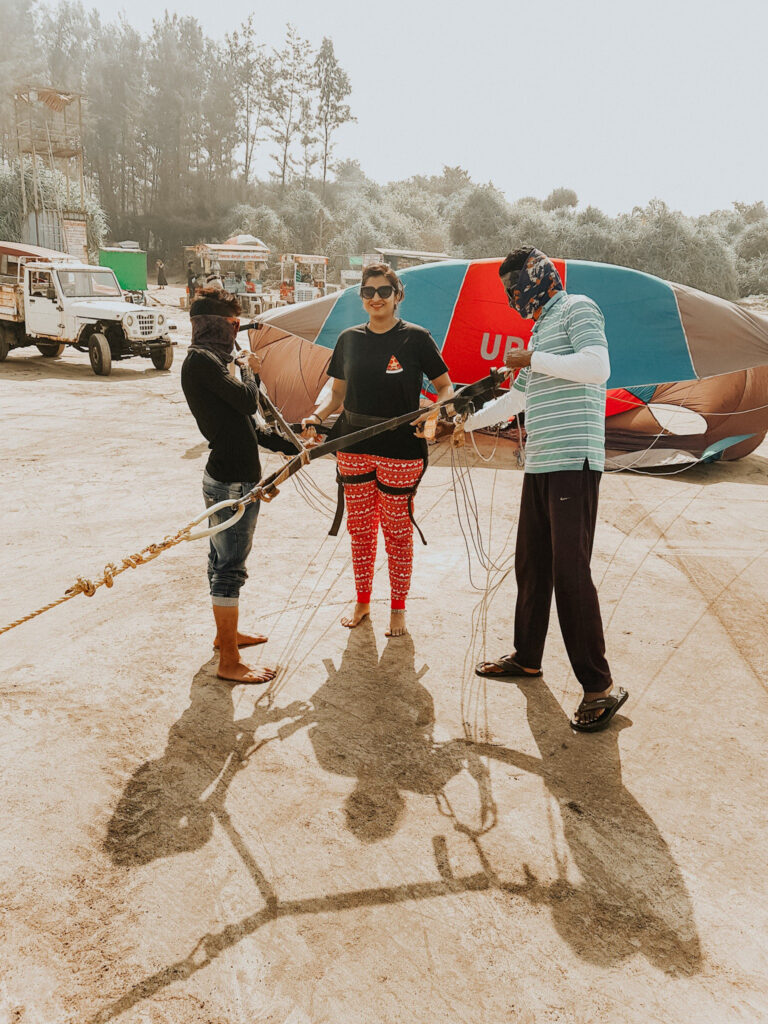 Next morning after water sports and activities we headed to hotel again. We had lunch again at same place (Patil Khanaval) as its highly popular for their food. After food we decided to explore last but no least Shrivardhan beach.
Shrivardhan Beach
Our last destination was Shrivardhan. The road journey in itself is thus wonderful that on the whole way you would feel like the motivation behind your excursion is fulfilled. But hang on; there is still so much to follow. Many mini-beaches on the way however this one caught our attention, we had a 10min stop here. Following a couple of pit stops in the midst of the amazing nature, we made it to the Shrivardhan.
Few pictures on the way to Shrivardhan.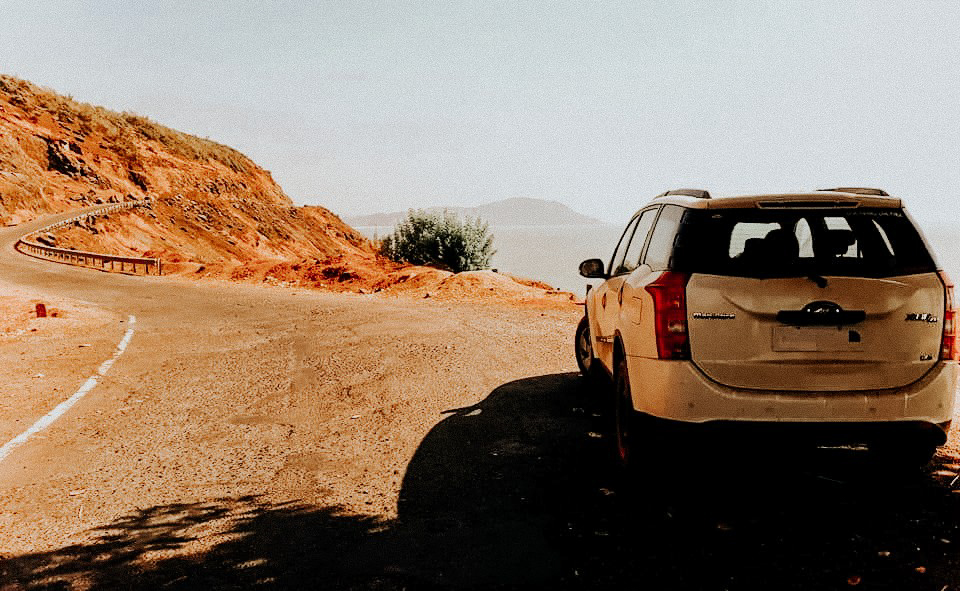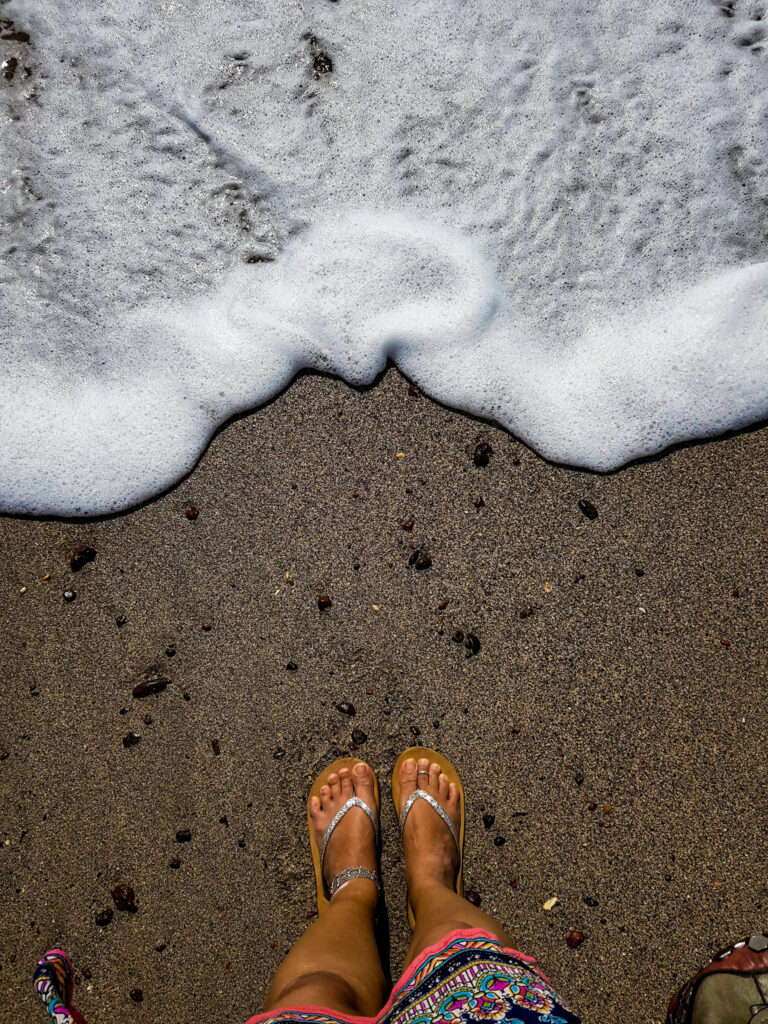 Shrivardhan is known as one of the oldest towns from Maharashtra. It is famous for its beaches and Shri Laxminarayan temple. Also renowned because the 'Town of the Peshwas' – the primary Peshwa, Balaji Vishwanath hailed from here. Shrivardhan and Harihareshwar both are blessed with majestic black sand beach and clear sea. Situated on a land, Shrivardhan has several beaches which are unspoiled, clean and relatively less crowded. Recently beach is developed a good looking path on the beach. There are few view points built and benches for relaxation. We spend the remaining afternoon on the beach. We left Shrivardhan by 5 PM and we return to Diveagar Beach. Had some chai & bhajji which was must in evening watching beautiful sunset.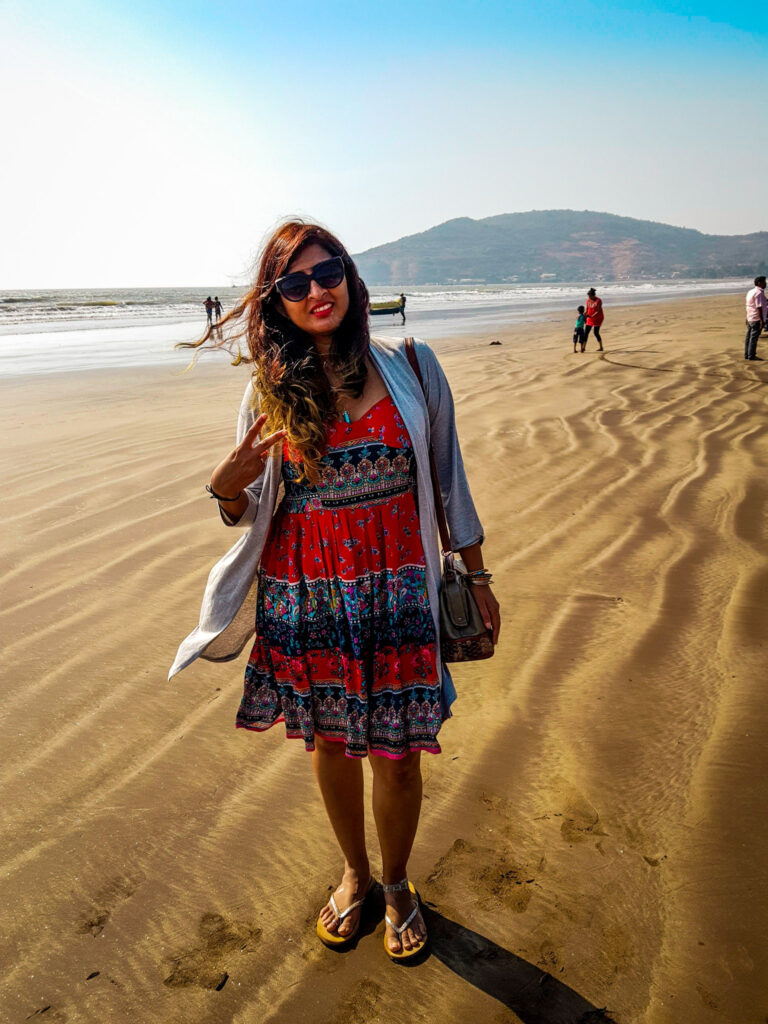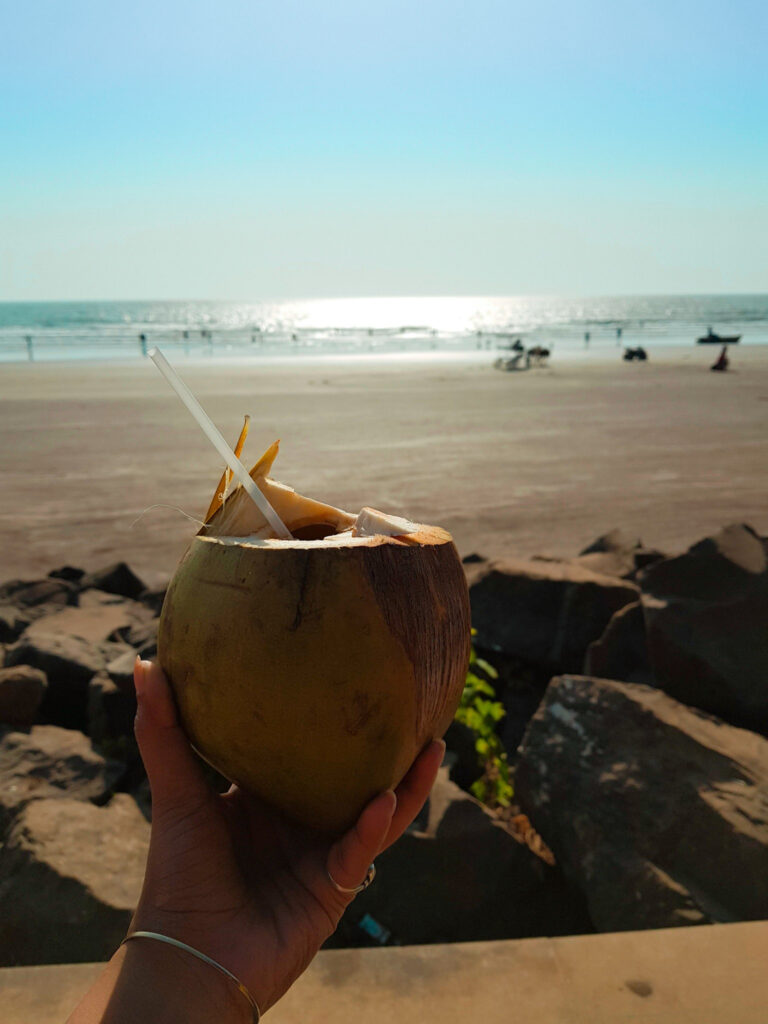 Last Morning
We got up by 8am next morning, had breakfast at 9am and said goodbye to Divegar by 10.30am post settling all final bills for stay and food (few photos on the way to Mumbai).
Are you excited about your Roadtripin' to Konkan? We sure enjoyed our time in the Konkan and we look forward to hearing your stories. So go on, tell us your story in the comments section below. Also you can follow me on Instagram
Previous Post: SPEND A DAY IN BRUSSELS BELGIUM..EATING & DRINKING!
xoxo
Hayyaa…