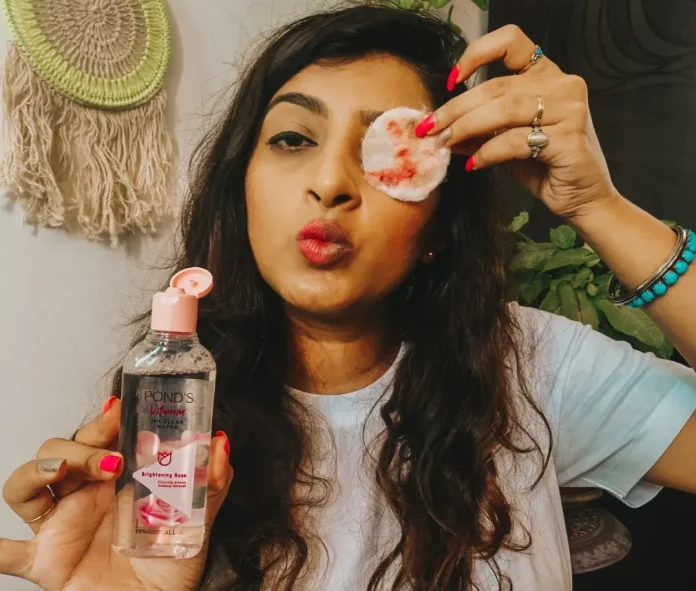 Hello People,
This Pond's Vitamins Micellar Water was quite an surprise. I mean, I do understand they're a skincare brand however I never really thought that they would be a part of the micellar trend.
I feel that lot of you would agree with me if I say that Pond's is such a brand that is really connected to our childhood days. Pond's cold cream used to be a common name, particlularly throughout winter. It is a brand that is trusted by millions. Ponds has recently launched a new range of micellar water. The vary includes three variants – Vitamin Micellar Water Brightening rose, Vitamin Micellar Water Hydrating Aloe Vera, Vitamin Micellar Water D – Toxx Charcoal. Let's head to the review.
What is Micellar Water?
'Micellar' the term coined from 'Micelles' or tiny lipid molecules suspended in soft water. So, these tiny balls get attracted to oil and dirt and drive away all the toxins from the skin. Micellar water does not make the skin dry and maintains a healthy pH balance. They look like water but the texture is different.
Product Description
Ponds vitamin micellar water is a refreshing cocktail of micellar water, 5 essential vitamins (vitamin A, B3, B5, C, E) to deep cleanse away makeup, dirt, impurities, sunscreen. The world's first ever micellar water range supercharged with the power of vitamins. Each swipe has cleansing micelles that capture and gently lift dirt, impurities and even waterproof makeup and 5 essential vitamins A, B3, B5, C and E that nourish and rejuvenate to leave you with glowing bare skin. Removing makeup isn't the end. Women go to great lengths not to show their face after removing makeup, as it lacks the glow that makeup gives, pond's vitamin micellar water removes the makeup but also gives back the glow to your bare skin so you can (bare) face the world with confidence. So, face it. Life doesn't have to suck. It does not have to mean shame, embarrassment or going into hiding. Instead, with the pond's micellar water you get the confidence to face your true self. Even after you have taken your makeup off. Because like they say, if you have got it, flaunt it. And the pond's vitamin micellar water makes sure you have got that glow.
What Does the Brand Claims?
Lose the makeup but not the glow. Presenting a 100% alcohol-free Micellar water which is filled with vitamins to make sure your face stays healthy and clean. This non-sticky or non-oily formula has the power to brighten up your skin. Removes 99% of the makeup off your face.
Ingredients
How to Use?
Shake the bottle pretty well before application. Then take out a few drops on a cotton pad and apply on face, eyes, lips, and wherever you find traces of makeup. No further rinsing is required.
Packaging
The packaging seems very simple. Sturdy plastic bottle with a flip flop cap that matches the theme of the variant Pink, Green and Grey Respectively. The Cap shuts tightly and that makes it travel friendly.
Texture and Fragrance
The Ponds Vitamin Micellar Water is transparent and has a water –Like consistency. It is very light weight. When we sniff the micellar water from the bottle it feels very strong and non artificial. Once we dispense the micellar water onto a cotton wipe the fragrance doesn't feel strong and is quite mild. The good part about product is that it has no fragrance which is a boon for sensitive noses.
Price
INR 125 for 105ml and 299 for 250ml. Available at Nykaa, Amazon
My Experience
For the first time, I have heard micellar water contains vitamins so, I was really excited to try it out. The Pond's micellar water is actually very effective in removing makeup on my face. You can use it for entire face including eyes and lips. For removing waterproof mascara and smudge proof Lipstick, more amount of product and you need to give multiple swipe. But that's quite understandable because they're meant to last and stain, right? It is mild and gentle; the formulation is suitable for everyone.
The good part is that it doesn't cause any sort of irritation or drying out to my skin. Moreover, it is non-oily and doesn't leave behind any greasy residue so, you can also skip washing your face post application. But for my hygienic purposes, I still wash my face with soap and water to really ensure that I won't have any makeup and dirt residue on my face. It makes it a good option for traveling and for those days when you really tired and lazy to go and wash face.
Pros of Pond's Vitamin Micellar Water
Travel-friendly sturdy packaging
Components have been listed on the label; moderately safe ingredients.
The theme and the packaging look quite cute.
Perfect for all skin type.
Affordable; in fact, even the small size of this micellar water is affordable than other available in market.
Cons of Pond's Vitamin Micellar Water
Multiple swipes required for waterproof mascara and lipstick.
Is it worth it? Yes. Would I buy this again? Yes definitely.
How about you? Have you tried any Micellar Water? Comment your thoughts down below!
YOU MAY ALSO ENJOY COLORBAR SINFUL MATTE LIPSTICK REVIEW AND HIMALAYA FRESH START OIL CLEAR FACE WASH REVIEW