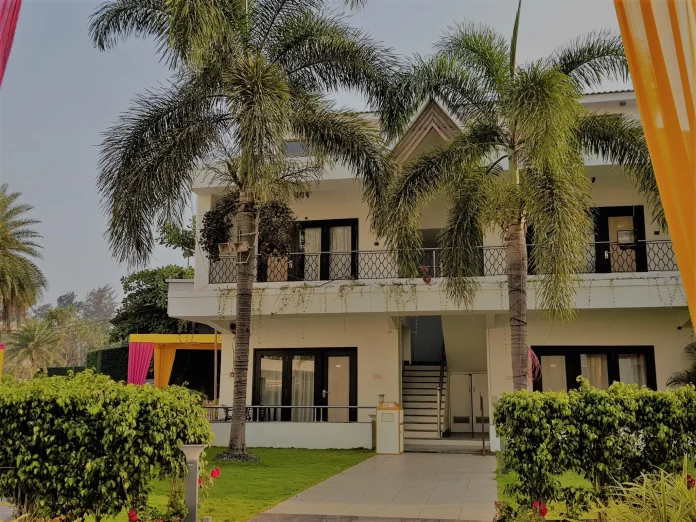 Mirasol Lake Resort beautifully located on the coastal side of Gujarat state of India. Daman is a powerful beach town providing an Ideal weekend getaway. The once a home to Portuguese colonies in Asia, Daman; additionally known as 'Damao', is bordered by Gujarat and the majestic Arabian Sea. Sprawling around 12 km of magnatic outline, this town in the union territory of Daman and Diu. Also has been getting acclaimed as a favoured and blissful holiday destination among the travellers from across various corners of the globe.
About Mirasol Lake Resort Daman
One of the Daman resorts with an incredible waterpark as its added feature, this leisure house is a favourite among the aqua-fun lovers and others alike. The hotel is perfect for a weekend getaway as it offers plenty of things to unwind and enjoy your stay with. The amusement park has water wave rides, water coasters and water slides which are rejuvenating and open for business as long as the guests want it. Your kids can play at the children's water playground. The hotel is a family destination in the purest sense of the word.
How to Reach Daman
By Air: The nearest airports are Mumbai and Surat which are 164 km and 127 km respectively and from there Daman can be reached in approximately 2-3 hr via hired taxi.
By Train: Vapi is the nearest railway station from there Daman is just 10 km away. From there there are taxis available which will drop you till Daman bus stand at 200 rupees or you can opt for sharing taxi which charges 30 rupees per person
Mirasol Lake Resort Location
The hotel is located within walking distance from the beach whereas the airport and railway station are 14 Kms and 3 Kms away respectively.
About Rooms
One of the most tastefully done up resorts, with most sophisticated modern amenities for you. This is a place where you can bask in luxury while enjoying the joys of nature.
The accommodation you can avail is variegated – from Luxury Villas, Duplex Room, Suites, and Super Deluxe Rooms to the Family Rooms. All the rooms are air-conditioned and come equipped with Television, Fridge, Bathtub, etc. Warm hospitality is the hallmark of this resort. For an amazing experience stay at the ultra luxury Villas. You will come back feeling recharged.
Restaurants
Lake View Restaurant
Enjoy a magical culinary experience with our al fresco lakeside dining on the wooden decks that offer great view of our magnificent lake. With the best flavors of Italian, Mexican, Chinese and Indian cuisine, we offer the best Veg, Non Veg and sea food specialties. The Lake View Restaurant is open for both residential and non-residential guests from 10 am to 11 pm.
Pakwan Restaurant
The classic flavour of India can be best tasted here. From the ever-popular paneer and the quintessential favourite, biryani, to modern specialities like sizzling manchow, it just doesn't get any better than this! Pakwan is open for lunch from 12 noon to 3 pm and for dinner from 7 pm to 11 pm.
Eat Route
A new way to eat at Mirasol. New restaurant Eat Route is a multi-cuisine haven for foodies and visitors alike. From Italy to Kanyakumari, they have dishes that are guaranteed to give you a culinary experience you will never forget. Restaurant timings: 10 am to 11 pm
Activities and Amenities
Water Park, Coaster Rides, Slides & Splash Pools, Children's Play Area, Discotheque, Conference Halls & Recreation Centre, Ayurvedic Massage, Swimming Pool, Mini Theatre & AC Restaurant.
In and around Mirasol Resort
The local sightseeing trip Church of Bom Jesus, Daman-Ganga Tourist Complex, Devka Beach, Fort of Nani Daman, Jampore Beach, The Lady of Remedios Church, Our Lady of Rosary Church, Somnath Mahadev Temple etc. lie in close proximity to the hotel.
So, if you are looking for a luxurious experience for your upcoming weekend, I would highly recommend this Resort.
Did you enjoy this post? Let me know in the comments or by sharing it with the social media links. Don't forget you can follow me on Instagram, Facebook & Twitter.
Previous Post: MAKEUP REVOLUTION PRO HD AMPLIFIED GET BAKED PALETTE
Related Post: FOREST HILLS TALA- WEEKEND GATEWAY (REVIEW)