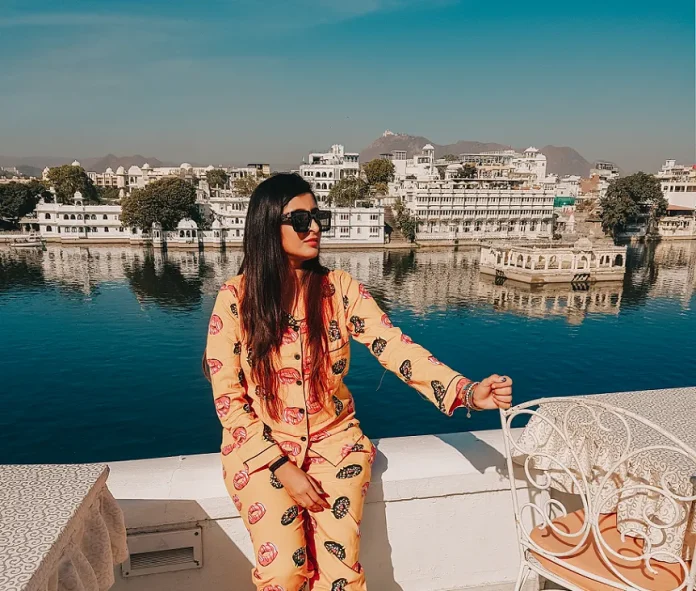 Udaipur is, without a doubt, one of my favourite places.
Udaipur is a wonderful mix of lavish palaces, elaborate temples, stately havelis, narrow whitewashed streets, and picturesque lakeside bathing ghats.
It feels like Europe in many ways, which may explain why it's been called the "Venice of the East."
A vibrant arts scene, authentic cultural shows, colourful bazaars, and a more relaxed vibe complement the city's visual beauty.
Udaipur is endlessly romantic, but it seems completely foreign to the rest of India. We suggest spending days exploring TOP THINGS TO DO IN UDAIPUR to get a full sense of the city and its quirks.
#1 EXPLORE THE INCREDIBLE UDAIPUR CITY PALACE
In Udaipur, the City Palace has become something of a landmark. It is nearly difficult to visit the city without taking a trip to the legendary Mewar Palace. Stroll through 400-year-old courtyards, enter bright blue rooms, and gaze out colourful stained-glass windows. Since most scenic arches and terraces are barricaded and off-limits to tourists, the enjoyment of visiting the City Palace is somewhat reduced. However, this does not stop visitors from flocking to Udaipur's City Palace.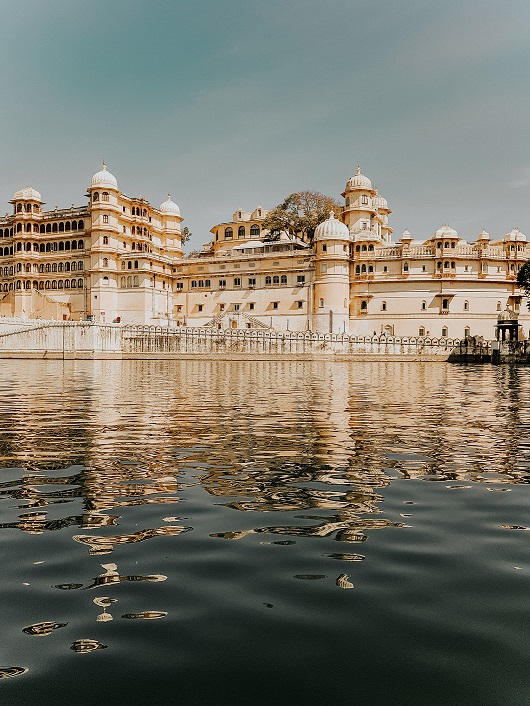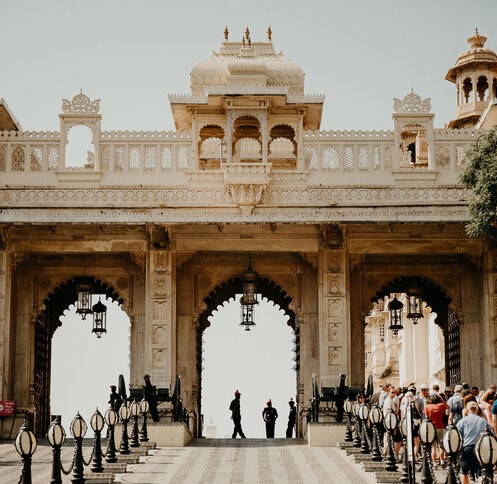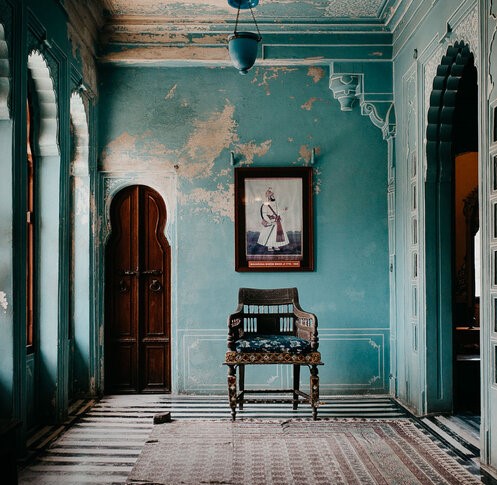 #2 ENJOY A SUNSET ON STUNNING LAKE PICHOLA
Another man made wonder in the city dominated by nature, Lake Pichola was created in 1362 AD. Rana Udai Singh II extended the lake in 16th Century. The picturesque lake is surrounded by huge hills, magnificent palaces, temples and bathing ghats. The island in Lake Pichola offer various tourist attractions and hence by cruising in Lake Pichola, you are sure to have a whale of a time. Sunsets views are stunning. Boat Cruise offers lovely view of the town, particularly in the evenings as you watch the sun go downs on your eyes, you will find the city lit up. The palaces looks stunning with the lights on and it is a great view from the lake. You can explore Fateh Sagar Lake by renting a boat from the bottom of Moti Magri (Pearl Hill).
#3 WATCH A BEAUTIFUL SUNSET FROM GANGAUR GHAT
Watching this colourful series from Gangaur Ghat is one of the best things to do in Udaipur.
As the sun sets over the Aravalli Mountains in the distance, a classic Indian scene unfolds in front of us. Children swim in the lake from the ancient ghats, while men cast a line to catch their daily catch. Though pigeons scatter at the slightest movement, a local man fills the air with incredible music from his Sarangi, a Rajasthani instrument.
It's a bloody magical experience.
Gangaur Ghat is the ideal place to end each day. So grab your partner, parents, or hostel friends and head here starting at 5 p.m.
Head to one of the rooftop bars in the city to watch the sunset while sipping a cocktail.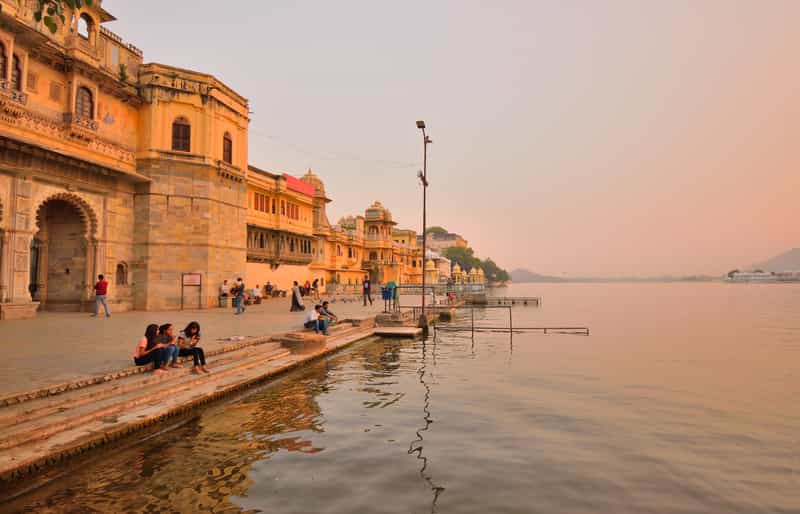 #4 ADMIRE THE VIEW FROM MONSOON PALACE
The Monsoon Palace also known as Sajjan Garh. Palace is situated high on a hill above Udaipur and can be seen from the city. It was a favourite vacation spot for the royal family during the monsoon season, as its name suggests. Before it was taken over by the army, the palace belonged to the Mewar royal family. Despite its dilapidated state, it is a famous sunset spot because of its unbeatable view of Udaipur.
The journey to the palace takes about 30 minutes and includes a stop at the Sajjan Garh Wildlife Sanctuary Biological Park. The park does not allow auto rickshaws to enter. Renting a car or taking the special minivan that departs from the Bagore ki Haveli entrance at 5 p.m. daily is the best option.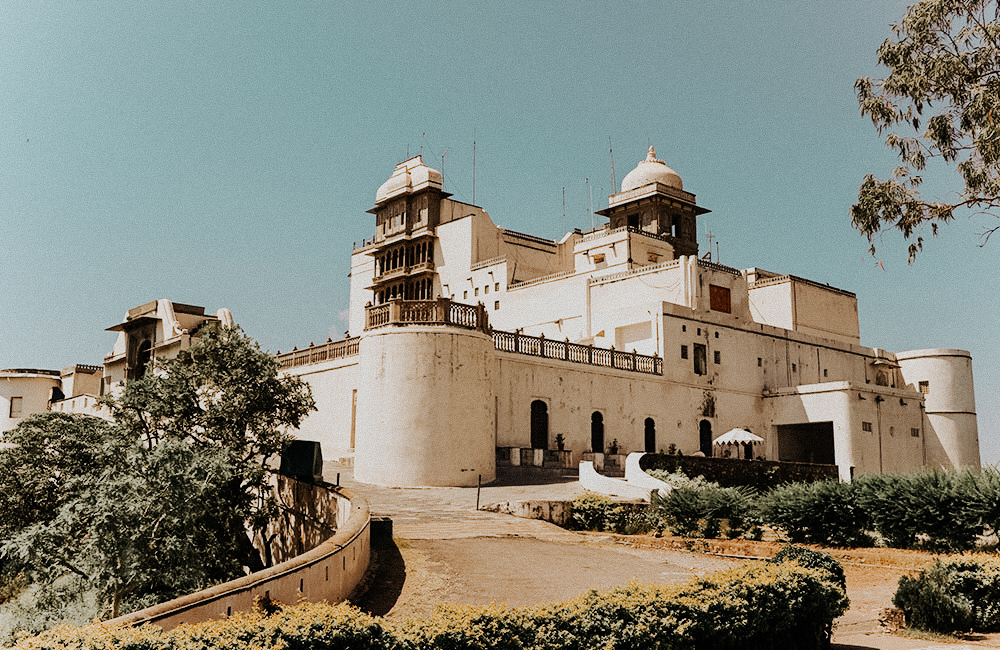 #5 RIDE AROUND UDAIPUR ON A BICYCLE
Do you have a lot of energy? Bicycle tours were first introduced in Udaipur by The Art of Bicycle Trips in 2013, and they have since become a popular way to see the area. Their lakeside city loop takes you through the countryside, passing by major lakes (Pichola, Fateh Sagar and Badi), mountains, and small rural hamlets. You'll see a variety of birds and animals along the way. The tour runs from 7.30 a.m. to 10.30 a.m. every day.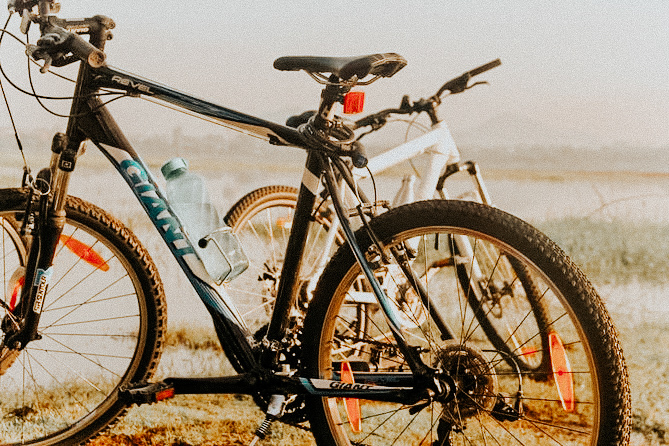 #6 WANDER THROUGH BAGORE KI HAVELI
Bagore Ki Haveli provides yet another fascinating glimpse into the royal family's lifestyle as well as the country's history. The Prime Minister of Mewar used to live in this sprawling mansion built in the 18th century on the edge of Lake Pichola at Gangaur Ghat (where you can sit by the water). After five years of restoration work, it was converted to a museum in the late 1980s, and it's a joy to walk around.
On the inside, there are over 100 rooms, courtyards, and terraces, many with beautiful paintings and fine mirror work. Royal paintings, kings' costumes, personal objects, and traditional Rajasthani arts and crafts are all on display. There's also a puppet gallery and a turban kit, which includes the world's largest turban. The Haveli is open every day from 10 a.m. to 7 p.m. There will be a puppet show and a folk dance performance. 7:00 p.m. to 8:00 p.m.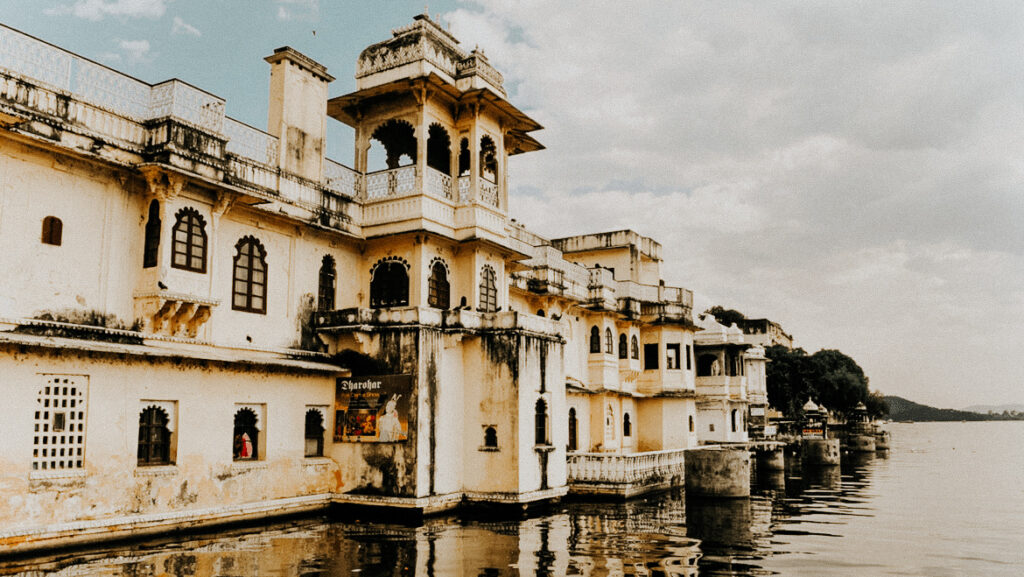 #7 SHOP TILL YOU DROP IN UDAIPUR
Beyond the old town's impressive bazaars and markets, Udaipur is renowned for its variety of shopping opportunities, so be prepared to spend your hard-earned money here.
Textiles ranging from traditional backpacker uniform (you know, those hideous elephant pants!) to more luxurious, bohemian pieces designed by local designers are available for purchase in the old town.
Jewelry and accessories can be found on seemingly every street corner, with anything from necklaces to leather wristbands available. Leather handbags and backpacks, as well as belts and slippers, are plentiful.
Stop by the many stores on City Palace Road and around Jagdish temple for art lovers and collectors on their travels; you won't be disappointed. If you're good in bargaining, then shopping at Hathi Pol Bazaar is one of the best things to do in Udaipur.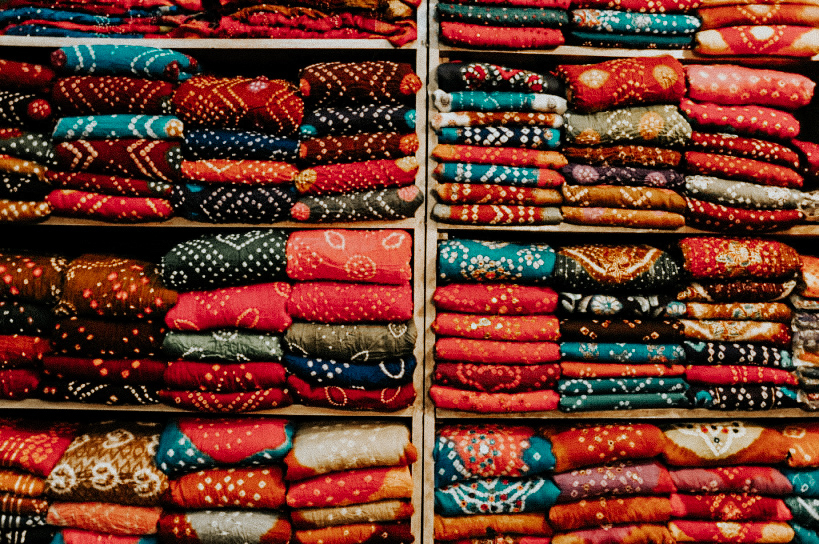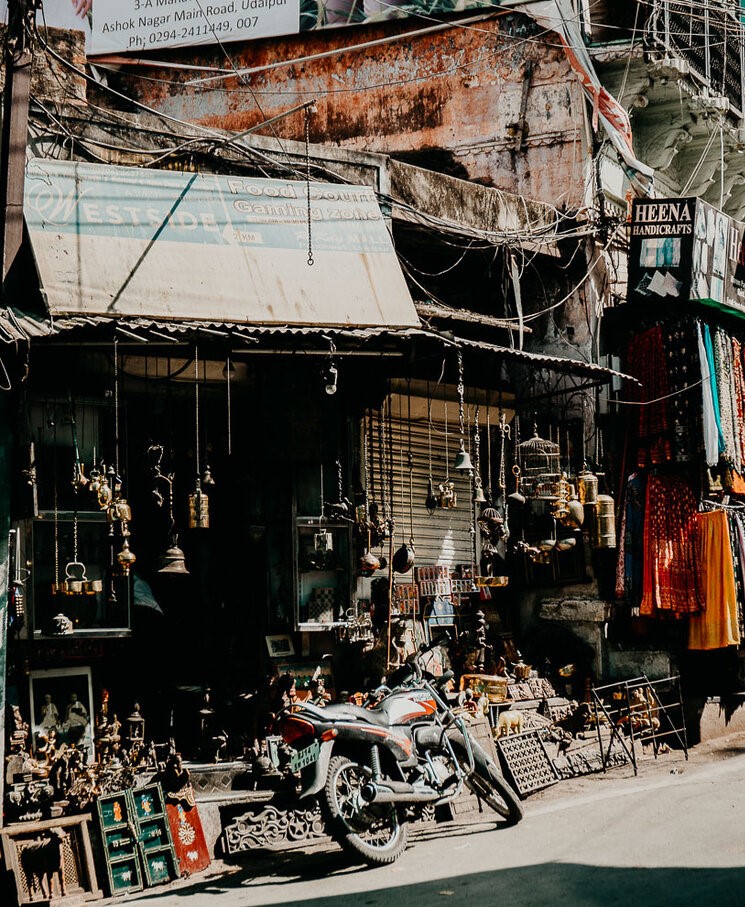 #8 VISIT BEAUTIFUL JAG MANDIR PALACE
Jag Mandir Palace is beautiful place of worship that one can visit throughout the year. Tourists love to come over to this place to seek a magical story. Apart from serving as a place of worship for the hindu followers, this place is also used as a venue for many upscale weddings.

If you are excited about what to do in udaipur, then coming over to this place, you will come across medieval architecture, royal surroundings, and luxurious fixtures visiting this place. Apart from all these, you will also get a chance to enjoy splendid sightseeing in udaipur making it one of the best things to do in Udaipur.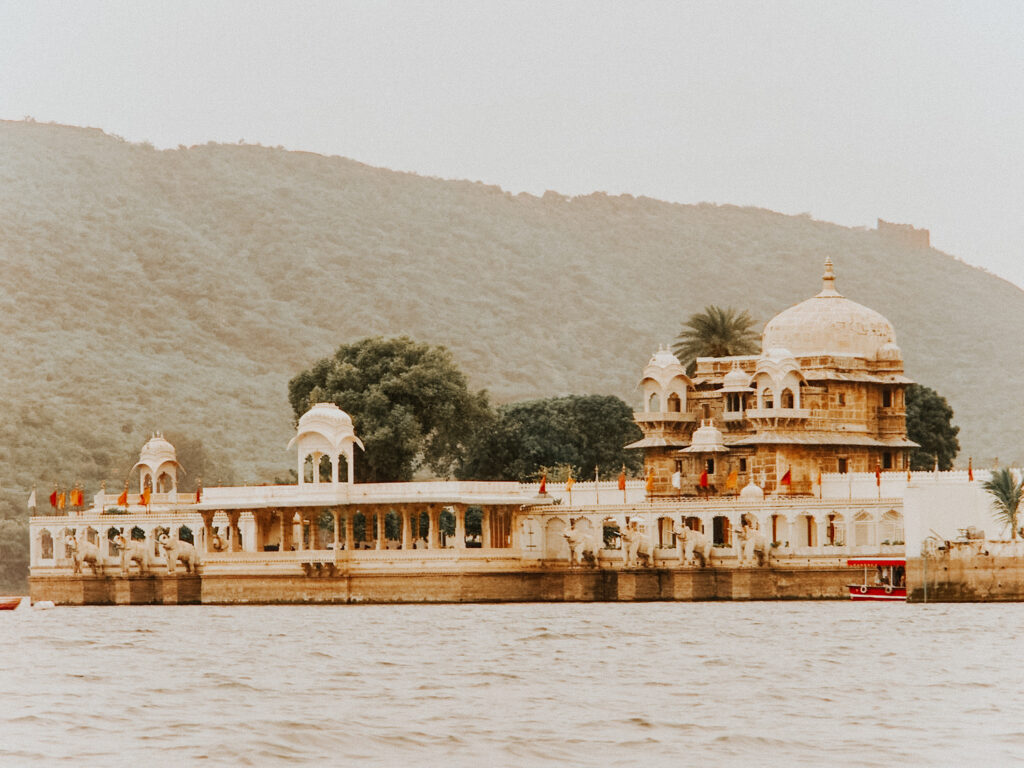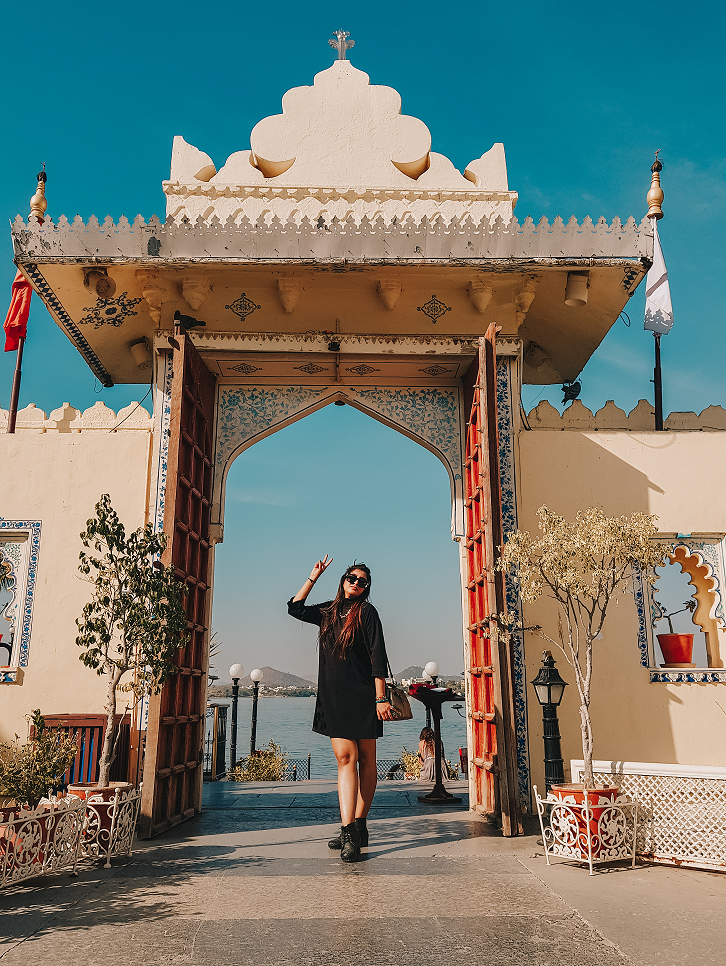 #9 WALK UDAIPUR'S COLOURFUL OLD TOWN STREETS
A stroll through Udaipur's beautiful streets is a must for anyone visiting the city. Heritage Walk is unquestionably one of Udaipur's must-do activities. In Udaipur, each lane, each corner of the road, has an untold tale. You'll get to see goldsmiths at work, temple ceremonies, and quaint shops selling everything from shoes to books, as well as take in panoramic city views. This city of lakes has so much undiscovered past that you can see on a stroll around the city. The beauty and tranquilly that surrounds this city would make you wonder how Udaipur has managed to stay so calm and serene for so long.
Handwritten signs in bright colours adorn each entrance. At any turn, there are smiles and the ubiquitous head bobbles.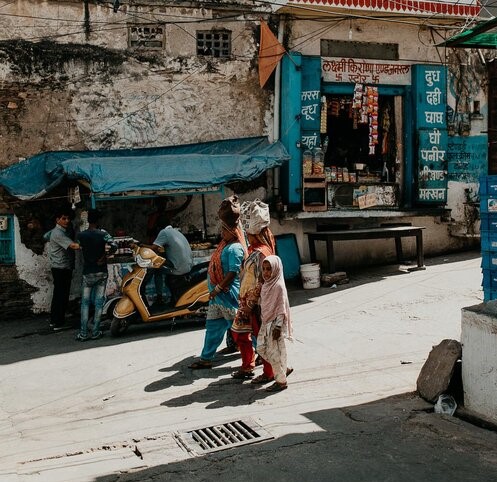 #10 INDULGE IN NATURE PHOTOGRAGY – SAHELIYO KI BARI GARDEN
In Udaipur, Saheliyo ki Bari (Courtyard of Maidens) is a popular garden and tourist attraction. It is a garden with fountains, marble elephants, and lush green lawns that has been beautifully designed. For the younger generation visiting the city of lakes, photography in the picturesque gardens is one of the upcoming and enjoyable things to do in Udaipur.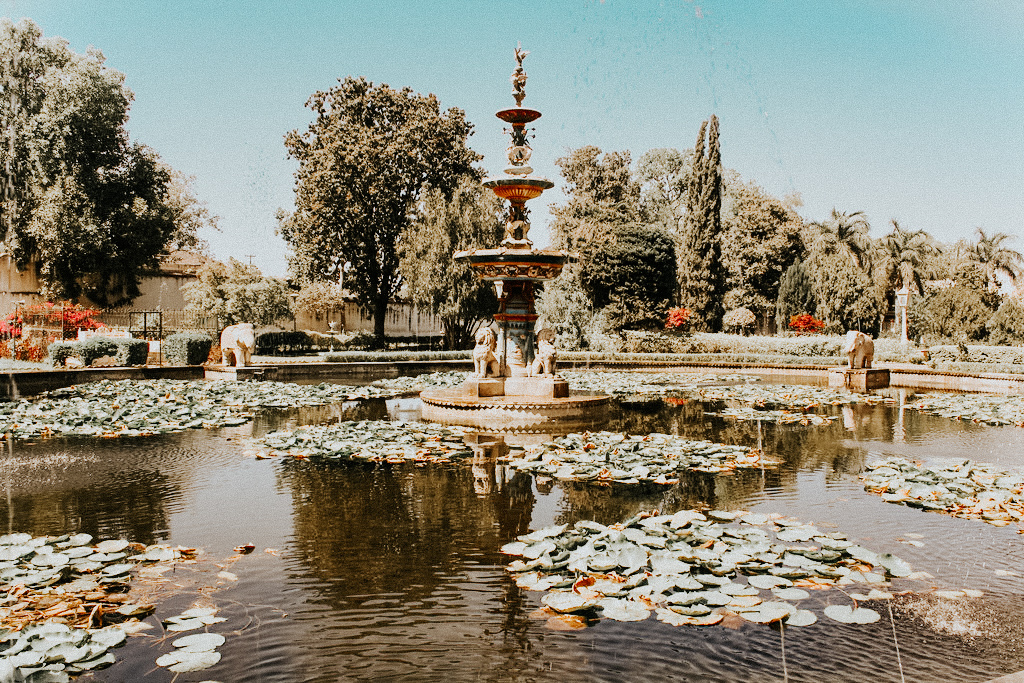 #11 SOAK UP THE VIEW FROM A ROOFTOP
The many rooftop restaurants on Lal Ghat, Gangaur Ghat, and Hanuman Ghat offer spectacular views of Lake Pichola. Head to Upre by 1559 A.D. for something unusual, including a panoramic view of the City Palace. Near Hanuman Ghat, on the roof of the Lake Pichola Hotel. Try the rooftop restaurant at Jaiwana Haveli or the Jagat Niwas Palace Hotel in Lal Ghat.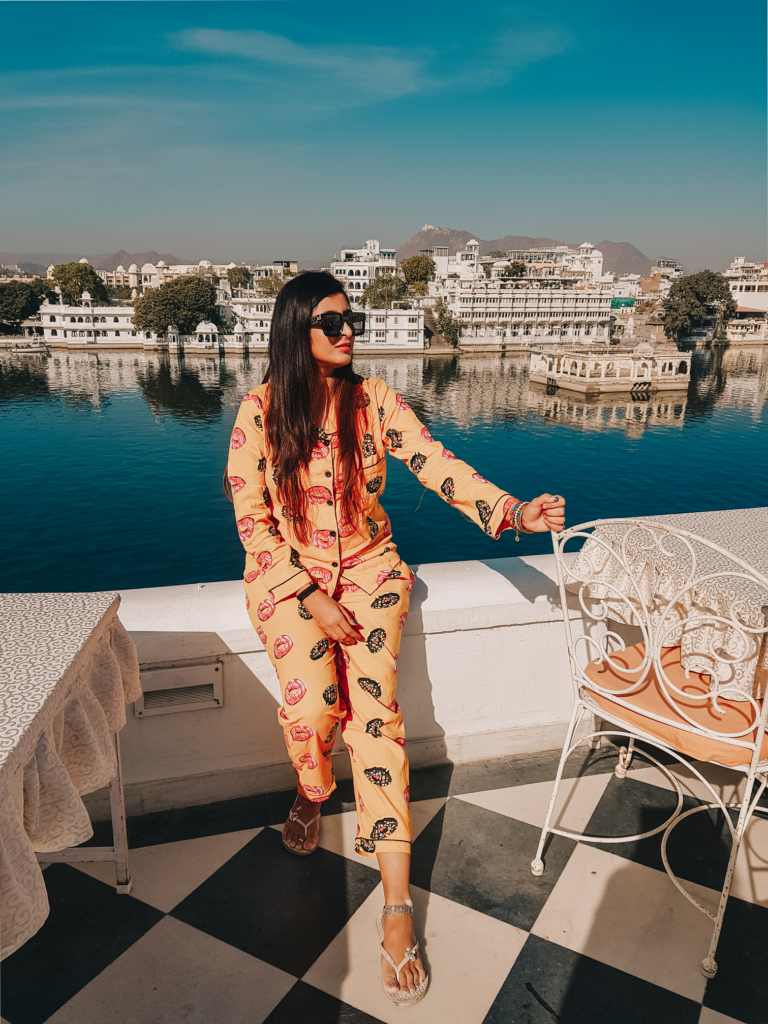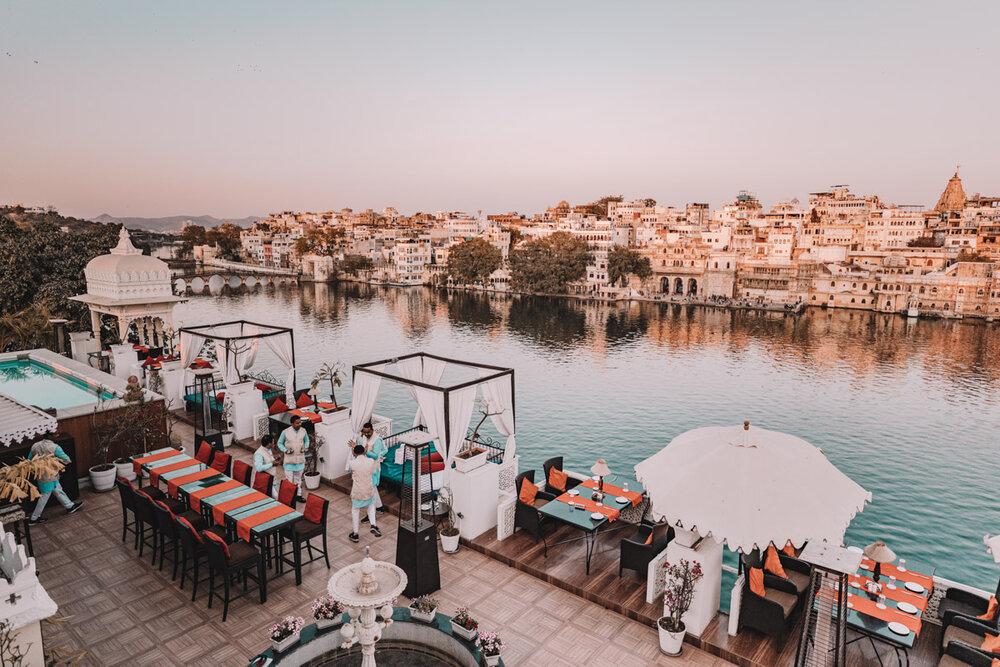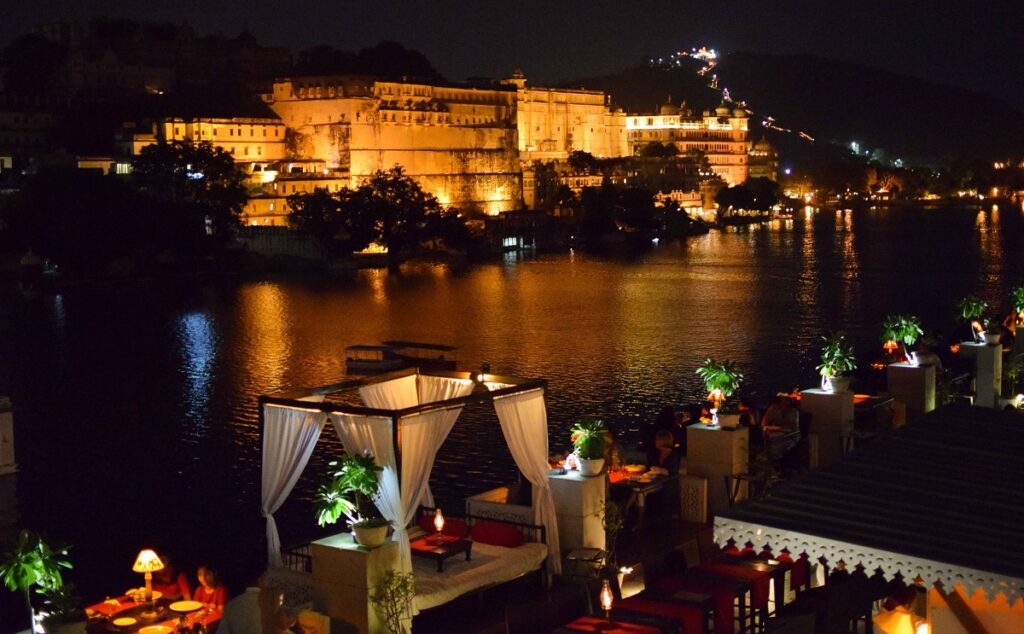 #12 VISIT JAGDISH TEMPLE
In the Lal Ghat area near the City Palace, this imposing white Hindu temple with intricate architecture and carvings is an unmissable landmark. It was designed in 1961 by Maharana Jagat Singh and contains a black stone idol of Lord Jagannath, an incarnation of Lord Vishnu who is revered in Hinduism as the universe's preserver. The evocative aarti (worship ceremony) that takes place every sunrise and sunset is the highlight here.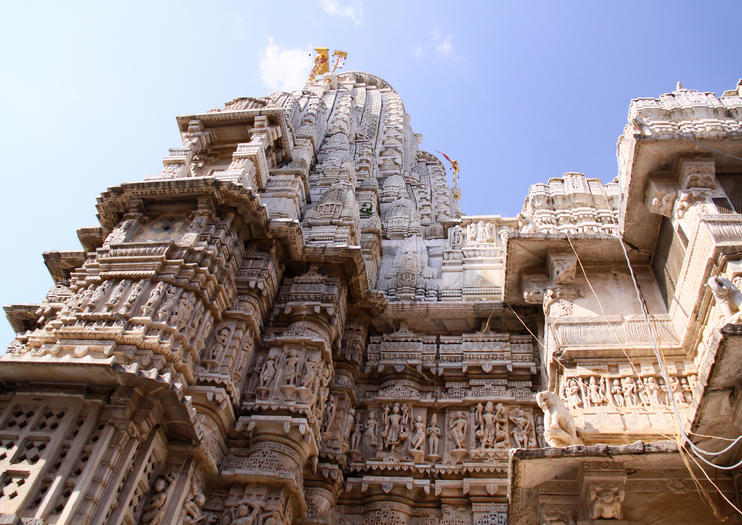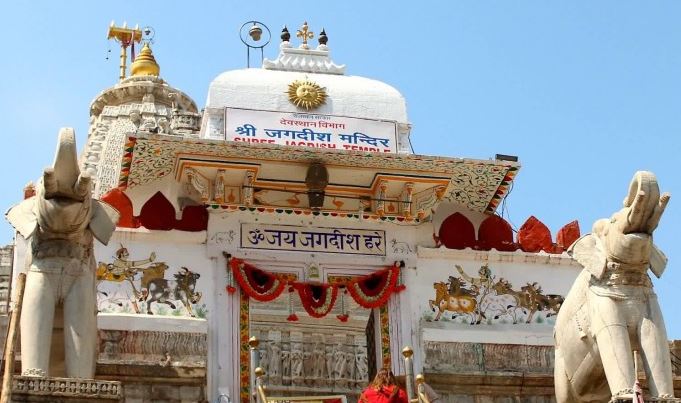 #13 TAKE A DAY TRIP TO KUMBHALGARH FORT
Kumbhalgarh Fort is one of the best places to visit in Rajasthan, situated at a height of 1100 metres above sea level within the Aravalli Hills. It is also easily accessible from Udaipur, which is 80 kilometres away, as well as Rawla Narlai, one of India's most famous boutique hotels. Kumbhalgarh Fort wall is comparable to the wall of China. It stretches for more than 36 kilometres and is large enough to accommodate eight horses at once. There are thirteen mountain peaks in the area of Kumbhalgarh Fort that is also famous for its wildlife santuary.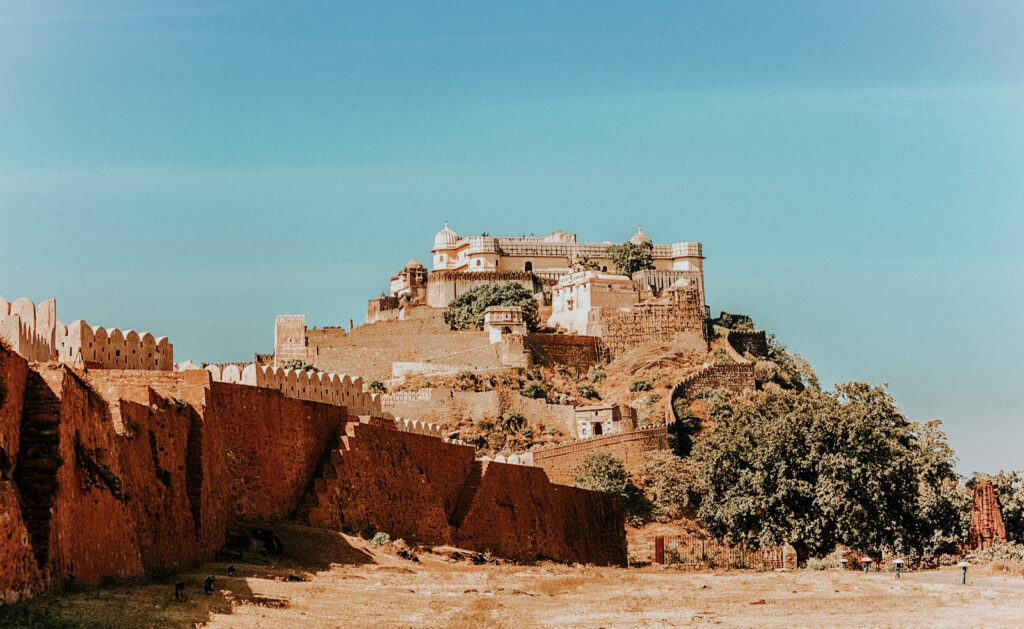 #14 NATHDWARA
The history of the temple is fascinating. Legend says, Shrinathji instructed to built the shrine in the 17th century. What method did you use to inquire? Relocated the Idol of Shrinathji from Vrindaban at the time to keep it safe from the Mughal emperor Aurangzeb. According to sectarian literature, he wanted the god to live with him in Agra. The bullock cart's wheels stucked in the mud that it cannot move an inch when idol arrived in the village of Sinhad. It was then that the priests learned Shrinathji had chosen the location for the temple himself. The temple is open from 5:30 a.m. to 6:30 p.m., and admission is free.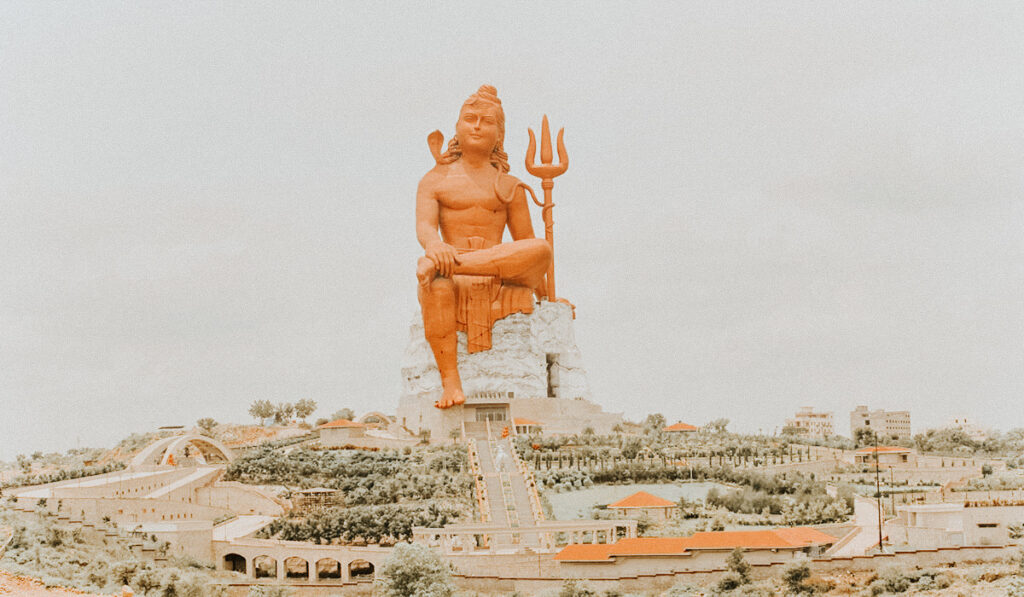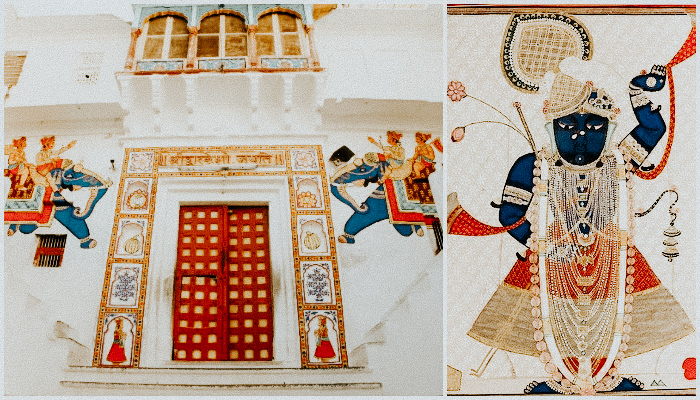 Follow me on Instagram for more updates..
YOU MAY ALSO LIKE PONDICHERRY–A LITTLE FRANCE IN INDIA AND FOREST HILLS TALA- WEEKEND GATEWAY (REVIEW)
XOXO
Hayyaa…