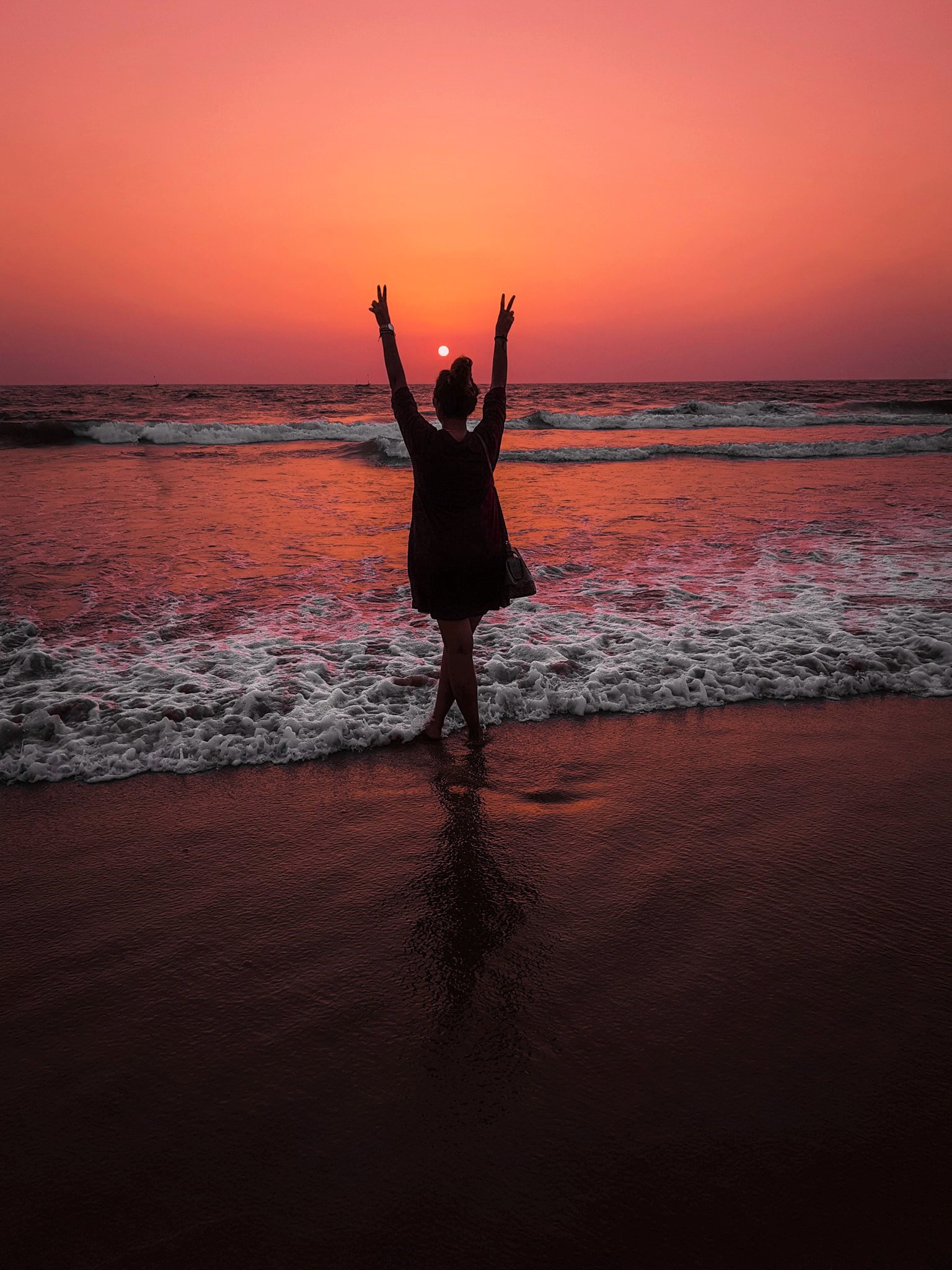 Goa, doubtless, is that the most wanted holiday maker destination in India.
Should I travel to North Goa or South Goa?
A question that has been pondered over by innumerable numbers of tourists that have traveled to the present tropical state in India.  Ask any of the North or South Goans this question, and you'll easily be able to pick up on the feud that doesn't seem to have an end! For me, both places have their own charm, but on this specific trip, I have to give the gold medal to South Goa. Serene beaches, delicious food, scenic drives, and spectacular mountains view what more could you want?  If you would like a clear stage from overpacked beaches and intoxicated strangers rupture of bars on the streets, this a part of Goa is for you.
How to Reach South Goa
Goa has developed rail routes that easily connect the city with the other cities. The two major railheads in Goa are Madgaon and Vasco-da-Gama. Several trains run daily from Mumbai to Goa along the Konkan Railway; most of these take 10 to 12 hours. Madgaon station lies at the guts of South Goa and also the nearest beach is Benaulim that is five metric linear unit away. For train bookings visit IRCTC.
Goa has an airport (Dabolim) situated roughly in middle of the state.
Bus: You will easily get bus option for Goa and that is also very budget friendly. Buses usually starts in the evening from Mumbai and reaches Goa in 12 to 14 hour's time.
Getting around South Goa
Hiring Bike (approx. INR 400-500 per day) is one of the best and most economical ways to tour the beach capital on your own. Just grab a two-wheeler by submitting an ID proof and depart to one of the foremost superb road journeys.
I had been to Goa like many times . I decided stayed in South Goa –Varca Beach Resort –Club Mahindra. It has amazing own private beach area.
For Staying in Goa – you will find lots and lots options like Hotels, Homestays, Hostels according to your budget on internet search.
From the months of October to March, Goa is full of life. South Goa has just right mix of people and activity, keeping that chaos to a minimum. Below is the route map of how I traversed across the beaches. Lets start with Varca Beach as I stayed there.
Varca Beach
Varca could be a great thing about a beach, surrounded by lush greenery and a quiet village, making it the perfect retreat from everyday life. The village is engulfed in green, and this along with the beach situates you right in the midst of nature. For adventure seekers, Varca is the place to be. With many water sport activities, you would love to enjoy the sea with adventure. On the Varca Beach you can also see the row of wooden fishing boats.
Colva Beach
Located 6 km away from the town of Margao, Colva is one of the more happening beaches in South Goa and is exclusively for the romantics. Fancy this– a candlelit dinner, a violin being played in the background in sync with the sound of water, followed by a long walk along the coastline ( best beach shacks). Colva is as mushy as it gets. Right from sunbathing, water sports to other recreational activities, beach brings plenty of activities for adventure lovers. 

From the beaches, if you walk back to the market side, there is a lot on offer for you.  

Benaulim Beach
Just 5 km from the City of Margao, it is located just in the middle of a continuous 30-kilometer beach strip of the South Goa coastline. Benaulim Beach is among the good beaches in South Goa for indulging in water sports. Benaulim Beach is an aesthetic collage of verdure with the Sea at the border. The Myth say that Lord Vishnu's arrow landed here and it was named Banavali. Later it transformed to Benaulim during the Portuguese regime. Today this South Goan beach is a sun lover's spot and attracts adventure junkies in large numbers.
Arrosim Beach
Arossim beach is found in Cansaulim village, which homes the famous three kings church. The beach shacks serve some of the best food in Goa. Who doesn't like to be left at a place where nature is at its best and no crowd to disturb? Arossim beach is the one you need to visit. Wherever you decide onto put your towel, be it Arossim, Cavelossim or Mobor, you'll enjoy soft sands and gentle sea breezes. Just south of Arossim you'll notice Goa's most well-like beach shack, Zeebops, serving up superb flavours of Goa.
Agonda Beach
Moving towards south, Agonda beach is another paradise in south Goa. Agonda is less crowded in comparison to other South Goan beaches. With restricted network connectivity, this beach is an ideal getaway for solitude and peace seekers. The serenity of this quaint beach in South Goa guarantees a soothing mood to pen easy thoughts like poetry, while bathing in the sun. With shacks obtainable at nearly throw away cost, Agonda beach tops the list of best weekend getaways in Goa. Agonda Beach is additionally popular for having a number of the most effective and comfy beach huts in South Goa. Various movie shootings have also been done here.
Famous for: Dolphin rides, hiking and windsurfing
Palolem Beach
For many, Palolem is Goa's best beach. This is probably because there is something here for everybody. A picture perfect beach, Palolem comes to life in season. A headphone party here is a must do. If you want to enjoy the beauty of the beach, come before the season begins, and Palolem is magical. One of the safest places in Goa to go swimming, there are water sports options, the most popular being kayaking and paddle-boarding. You can also go cruising. Other than the beach, you can also enroll for cooking or yoga classes. The beach is popular with a wide mix of people: backpackers, families, honeymooners, solo travelers and gangs of friends. Not being as crowded as the North Goan beaches, there is a sense of leisure that accompanies whatever activity you're engaged in.
You must be thinking that Goa all about Beaches? Absolutely not!!
Want to buy something from Goa?
Are you bored with beaches? Yes!! Head for the Goa markets for a touch of color to boost your life!
Margao Market – Margao Market one in all the large market areas in southern a part of Goa. A bazaar for those that like carrying the authentic flavors of their travel back home for his or her cherished ones. One will notice all types of outlets here from foodstuffs, liquors, cashews, clothes, branded shops, food outlets. Always remember to bargain and you will surely get a good deal.
What is the best time to visit South Goa
You can visit Goa year around but main tourist season in Goa runs from the October to February when the weather is cool but still ideal for swimming, sunbathing, relaxing and enjoying. December is the time once Goa witness's lakhs of tourists who come to celebrate Christmas and New Year Eve and conjointly the celebrated music competition –Sunburn. You can positively strive Goa in monsoons because the paddy fields flips crumptiously inexperienced. Also, you will find cheap accommodations due to the offseason.
I wanted to relax in quiet and less crowded places, with more of natural beauty. South Goa was precisely what i was to be trying to find. With the sun as bright, the sky as clear, the water as clean, the crowd as fewer, why would anyone go anywhere else? South Goa is waiting for you!!!
Do follow me on Instagram as i'm frequently posting travel posts and stories over there.
So, what are you waiting for ? Explore South Goa and you won't regret it. Don't forget to share your adventures with us!
Previous Blog: Roadtriping to Konkan
XOXO
Hayyaa…